Tips for Designing Custom Hats and Beanies
There's a lot to consider when designing headwear embellishments. Does the hat you'd like to use have a center seam? Are the beanies ribbed or very loose knit? Is your art too detailed to fit onto the available area on the hat or beanie? These are just some of the questions you'll want to ask yourself before diving into your next headwear project. So just for you we put together this post to help as a guide.
It would seem that the easiest way to tackle this subject would be to break it out by category. Structured, unstructured, low profile and so on. Keep in mind that your project may be subject to more than one of these conditions. Another opening point here is that most of this information is pertaining to direct embroidery on the hats and beanies. Reason being is that direct embroidery is the most difficult to execute and has the most amount of limitations. This is mainly because of the three-dimensional nature of hats and beanies. We have many application solutions we can pull out of the tool box for your project depending on the complexity. Whether it's embroidery, custom patches and woven labels, screen printing or digital and cut transfers we'll always present you with the best practice for your custom headwear.
Custom Unstructured Hats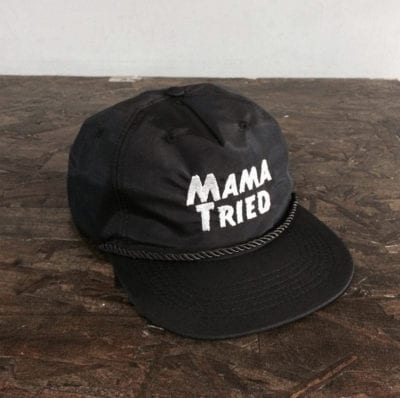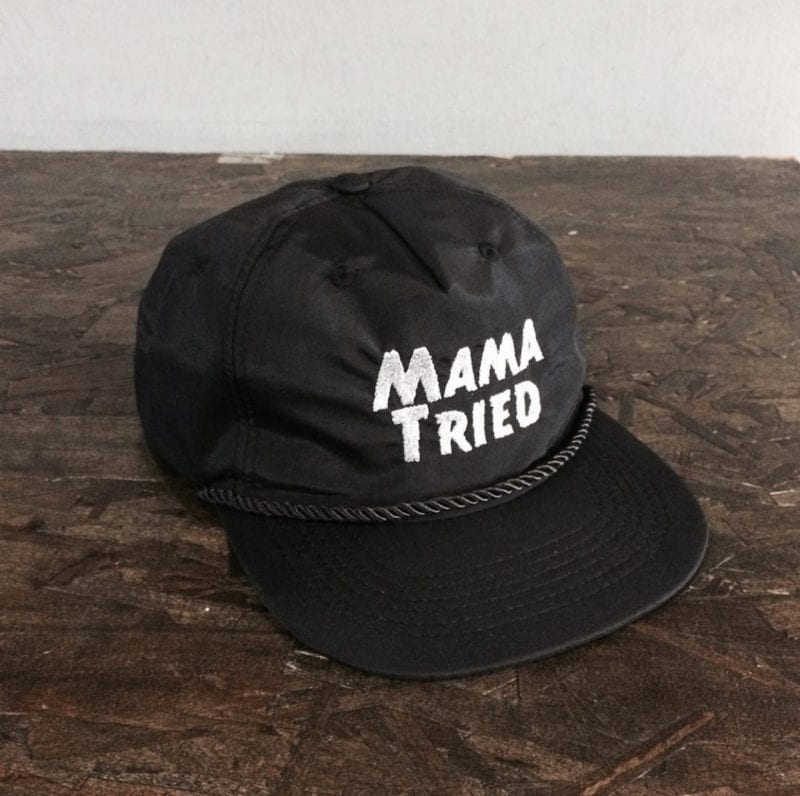 An unstructured hat is a hat that isn't constructed with what's called buckram. Buckram is a stiff cotton cloth that's used to give hat styles like truckers their stiffness in the crown. The most common types of unstructured hats are dad hats, crushable hats and bucket hats. Unstructured hats are comfortable, casual and make a great customized product if you follow some simple guidelines.
First the crown on unstructured hats is almost always going to be low profile. This makes the decoratable field on the front of the hat about 3.5in wide X 1.75in tall. That doesn't leave a lot of room for highly detailed art, make sure your art is bold and legible. Also due to the pliable nature of unstructured hats large embroideries can deform the crown so try and minimize the art if possible.
Temple and back embroideries are a good look. Just keep in mind that these locations on the hat are small so be realistic about the art you want to fit in there. We can embroider on the mesh but this is a place where we really stress simple bold art.
Another very common construction amongst unstructured hats is a center a seam in the front panel otherwise known as 6 panel. Here the seam creates a ditch that the embroidery can sort of fall into. Try and avoid small text and vertical lines across the center seam if you can. Let's note here that we also avidly avoid placing transfers or printing over any seam on any product. It just doesn't work well. A great solution for art that has small detail and must be placed over a seam is a custom patch or custom woven label.
Custom Structured Hats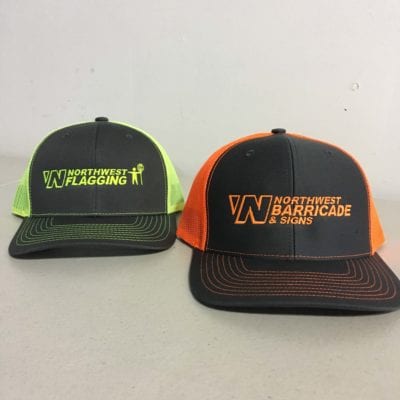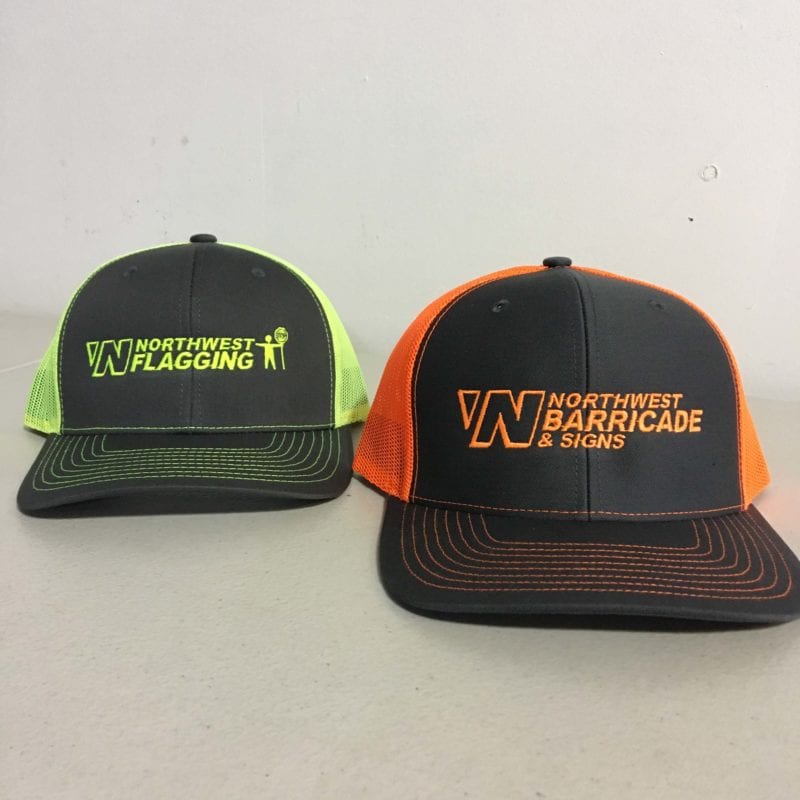 Structured hats include truckers, ball caps and flat bills. We call them structured because the do have buckram in them making them ridgid in the crown. Structured hats are fashionable, professional looking and great for embellishment as long as you know the best practices when decorating them.
Typically structured hats have a taller crown creating a little more space to put your art and logos. The optimum embroidery field here is going to be about 2in tall X 5in wide. Structured hats are rather stable so slightly more complex art is achievable when embroidering them. Screen printing is another great process for structured hats and way to keep it affordable for promotional type projects. Again though, really try not to print over the center seam and consider a 5 panel for your printed hat project.
Structured hats can be both 6 panel with center seam and 5 panel with no center seam. Both embroider well but again there are limitations with embroidering over the center seam. Particularly if you're interested in puff embroidery because the center seam and the buckram add a lot of material for the embroidery machine to punch through. This is why we recommend that you use a 5 panel or avoid embroidering over the seam for puff embroidery projects.
Structured hats can be either mesh-back or full-twill and the same rules apply as above for temple and back embroiderys. Keep it simple and even simpler if your wanting to put it on mesh.
Custom Foam Front Hats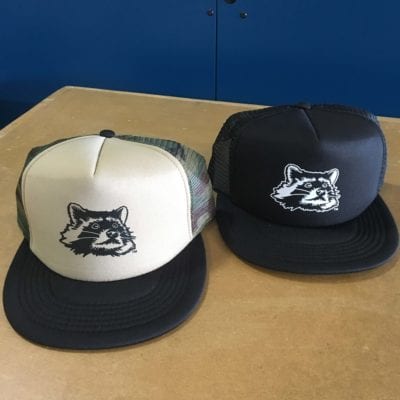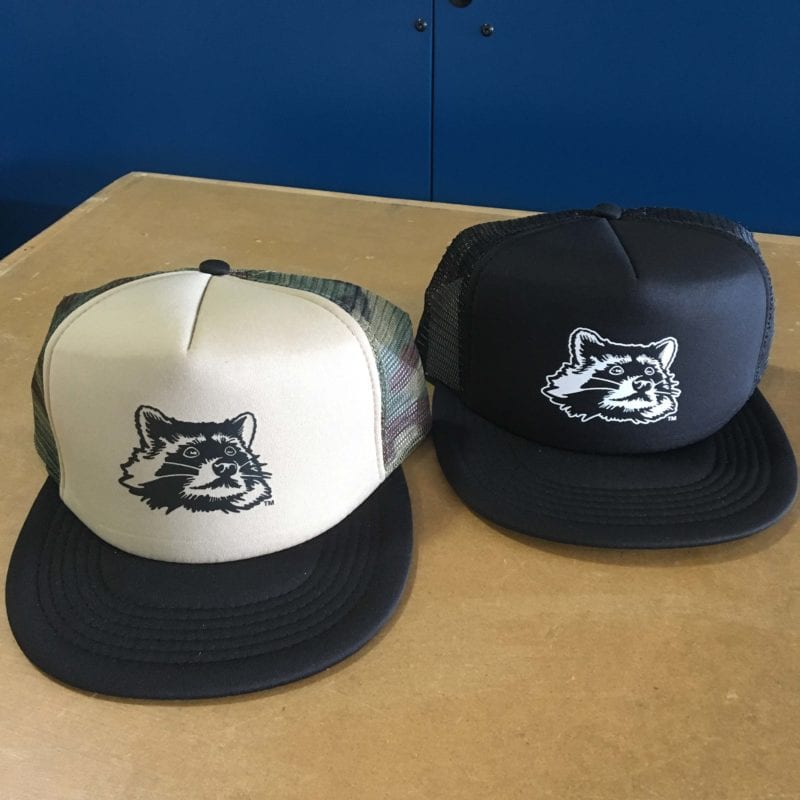 There's not a whole lot to talk about here but I do want to touch on the foam hats because they are so popular at our shop. As you probably know foam hats are the truckers that have an almost upholstery like foam crown on them. They are also available with all panels made from foam, we call the cheese hats and I'm not sure why.. Foam hats are great for promotional projects because they are affordable and easy to decorate.
We recommend printing for foam hats, whether is screen printing or transfers because both systems are economical. We don't recommend embroidery for foam hats. because the sewing process mattes the foam down and deforms the hat.
Sublimation printing is another good process for decorating foam hats that's affordable and great for art with high color counts. Just note that sublimation only works well on white material. So hats with white fronts are recommended.
Custom Loose Knit Beanies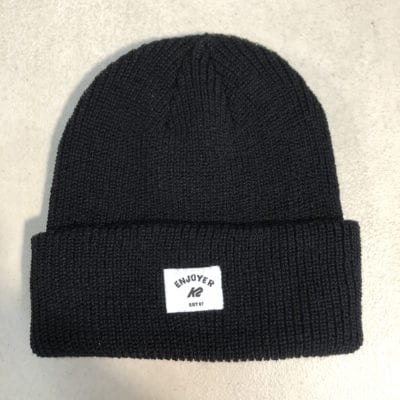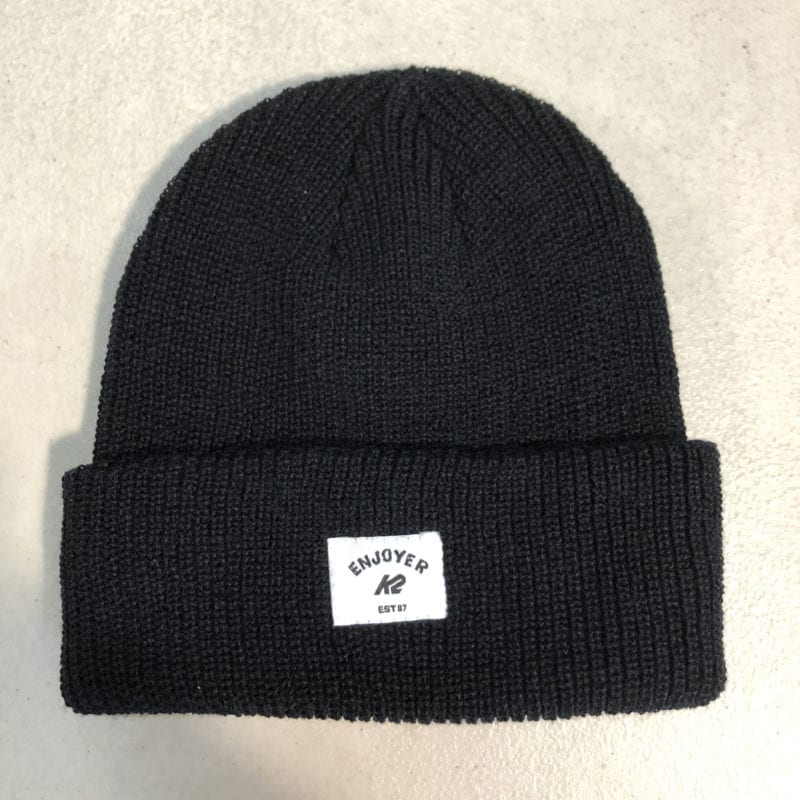 Waffle, ribbed and chunky style beanies could all be considered loose knit. Loose knit beanies are a great look whether it's on the ski hill or around town. Easy to decorate and affordable all beanies are great for promotional and retail projects alike. Loose knit beanies are any style that is knitted together in a loose nature opposed to bulk knit beanies that are a tighter knit.
Embroidering loose knit poses some challenges because the embroidery thread pulls into the yarn, the lack of stability also can deform the embroidery art. This is why we use unique stabilizer and a cross hatch base plate to provide a stable base to sew into. This is a great practice on all loose and lofty materials.
Custom Bulk Knit Beanies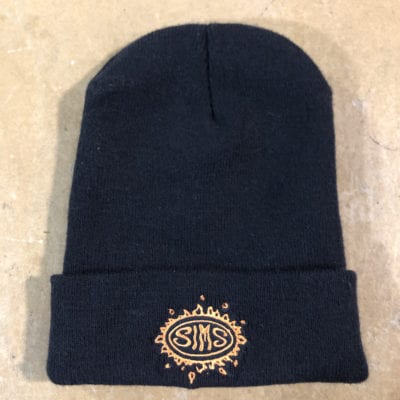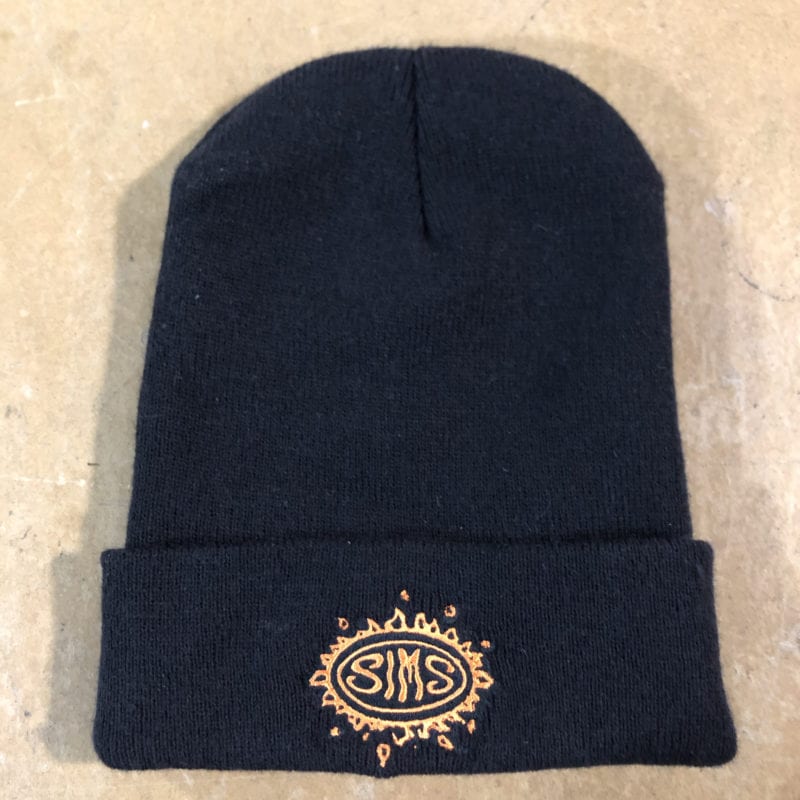 Bulk knit beanies are the most commonly embroidered beanie style because they have a tighter knit making them more stable. We recommend them for any projects where the art has thin detail or spans a large area of the beanie. We will often still add a base platte if needed to stabilize the art if needed. Particularly on text, text that is not linked together by a base place can look a little bit like alphabet soup. We'll use a tonal thread to the beanie color so the base plate is virtually invisible.
Patches and woven labels are also great ways to custom logo beanies. Screen printing is also option to customize bulk knit beanies, know though that when the beanie stretches over your head the knit on the inside weave can show through.
Every project is unique, that's way it's so important to go into production with a good plan that's seeded from a knowledgeable sales team. Work with us and we guarantee that our service assortment and experience will show in the end product.
I think that pretty much wraps up this post, thanks for reading. If you have any questions please feel free to reach out.
Custom Embroidered Hats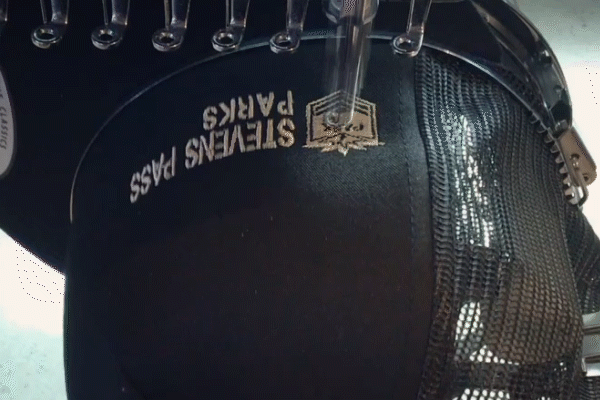 Custom Embroidered Beanies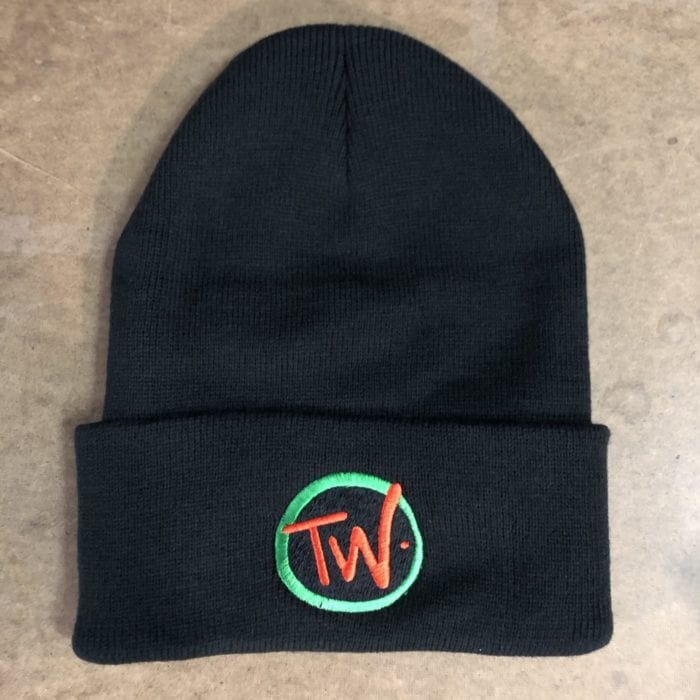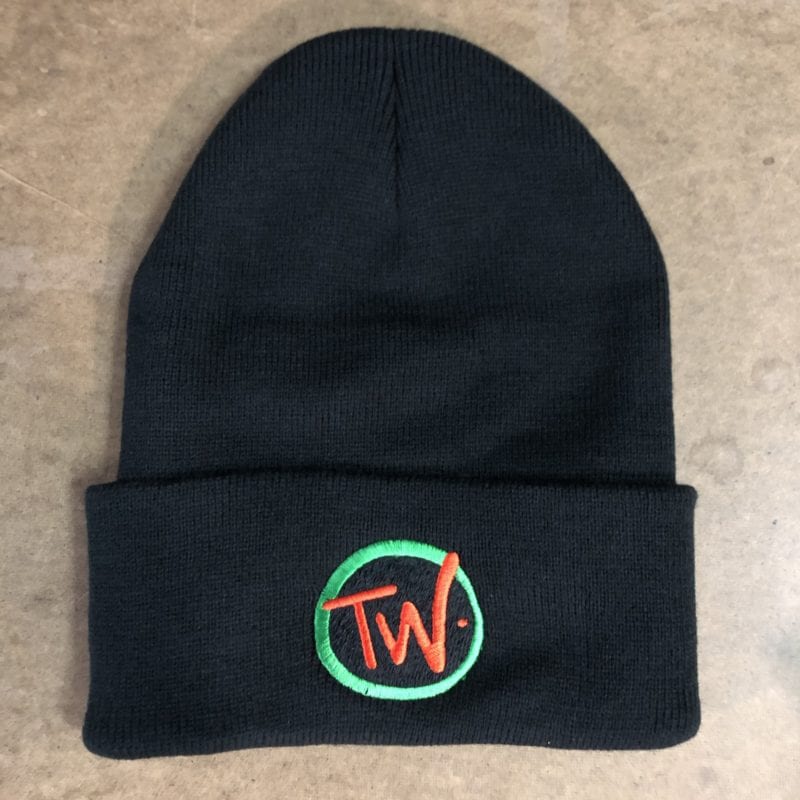 Custom Patch Sewing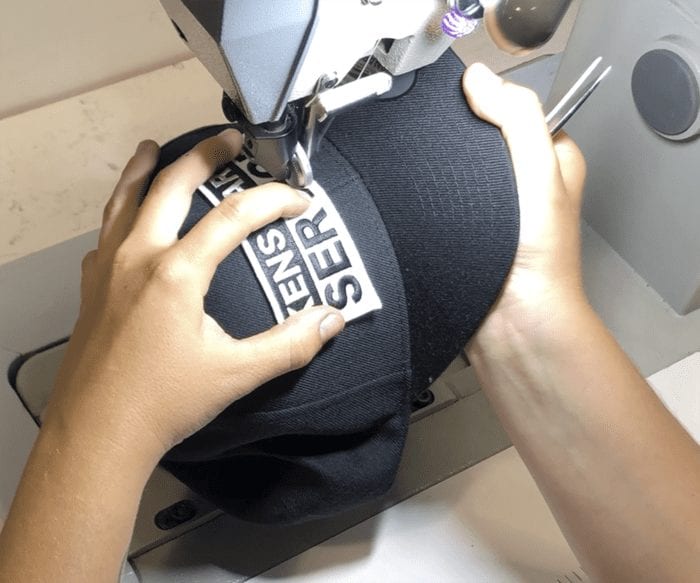 Custom Puff Embroidery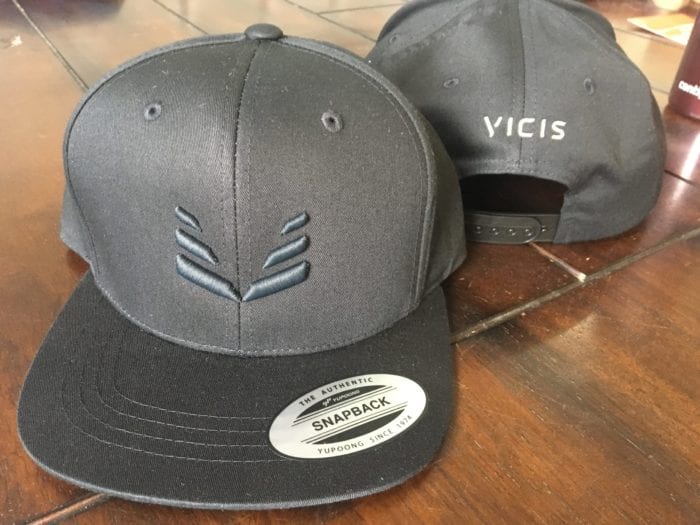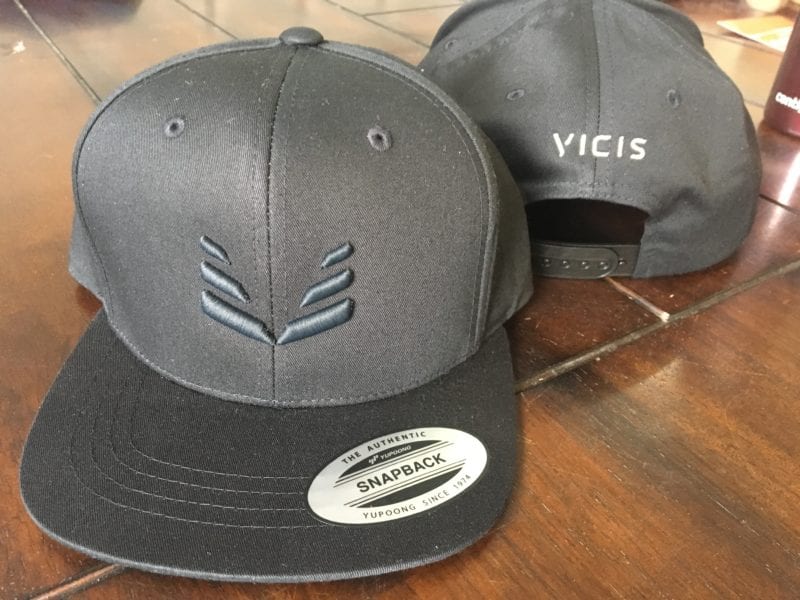 Custom Embroidered Beanies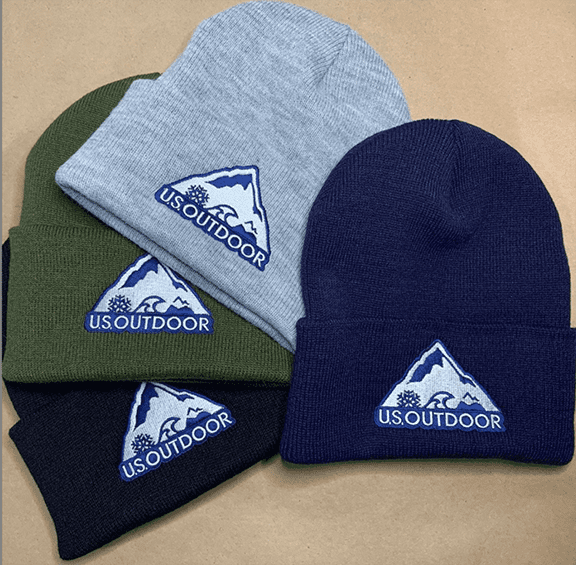 Custom Patch Beanies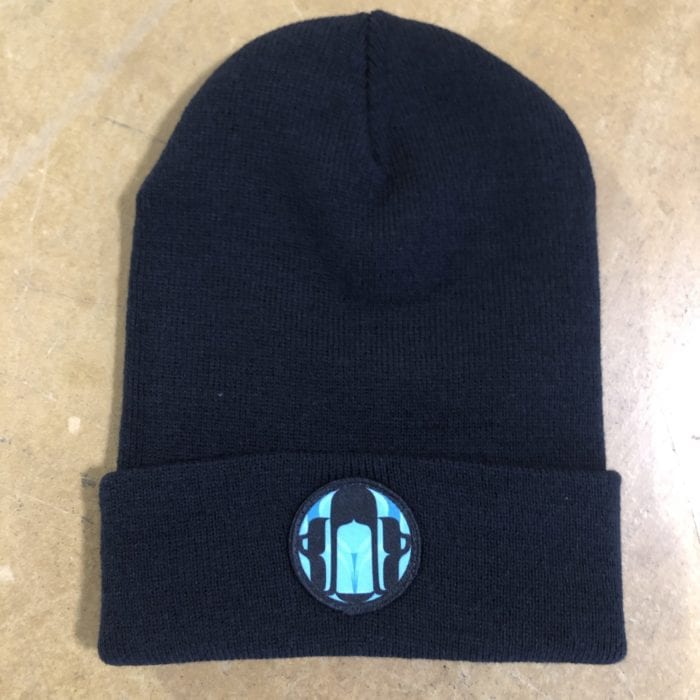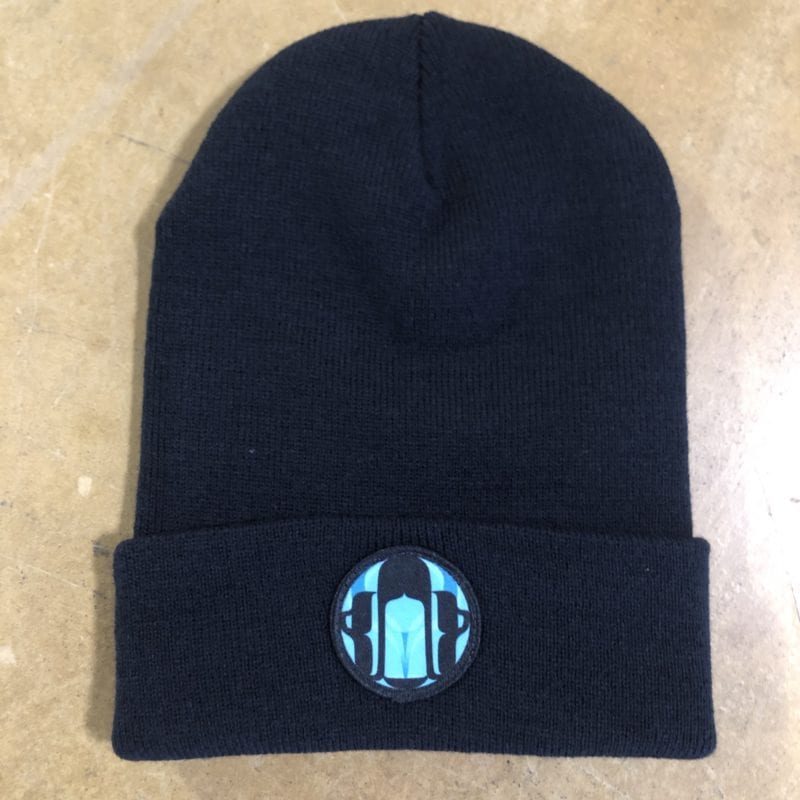 Custom Leather Patch Hats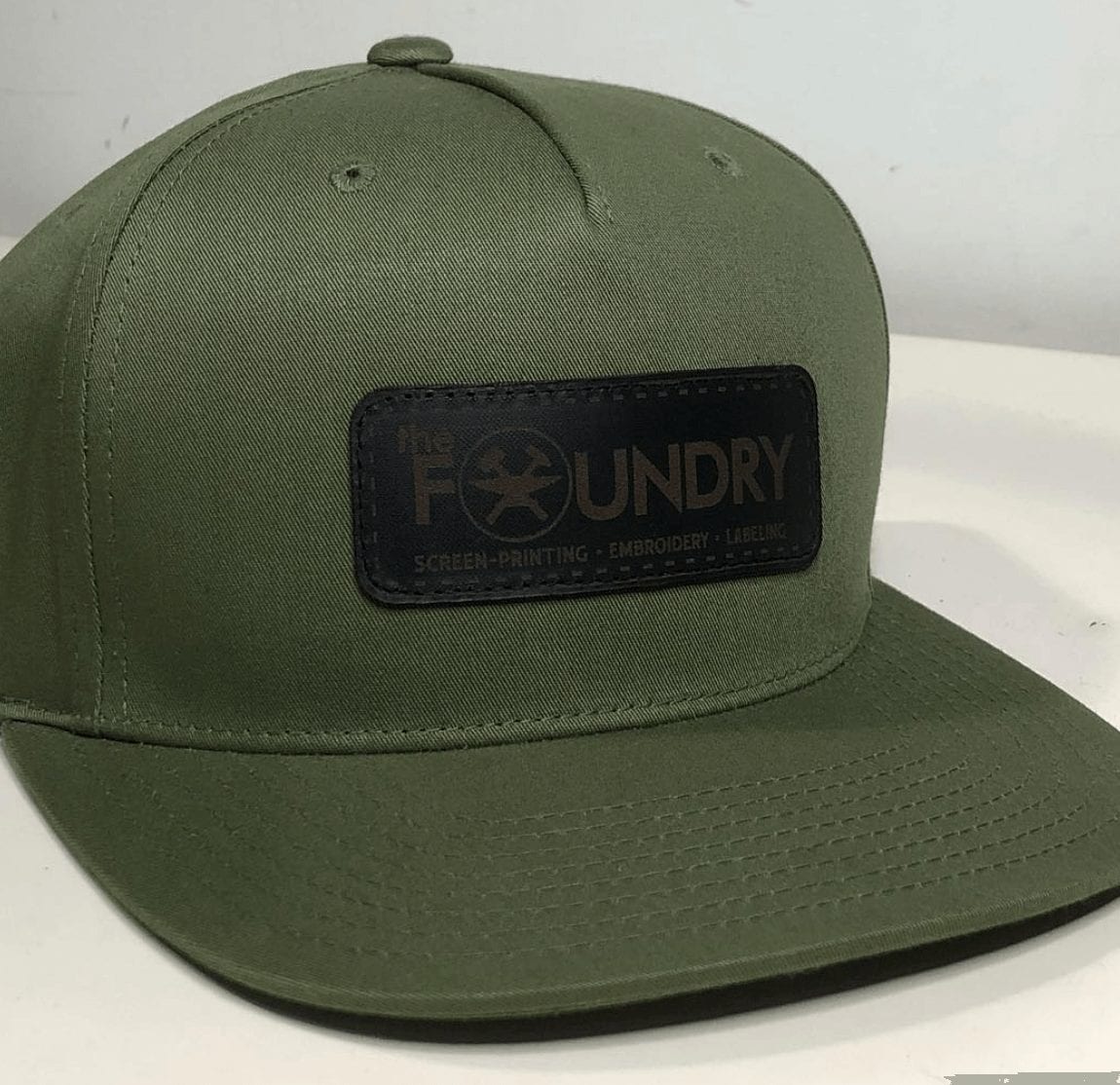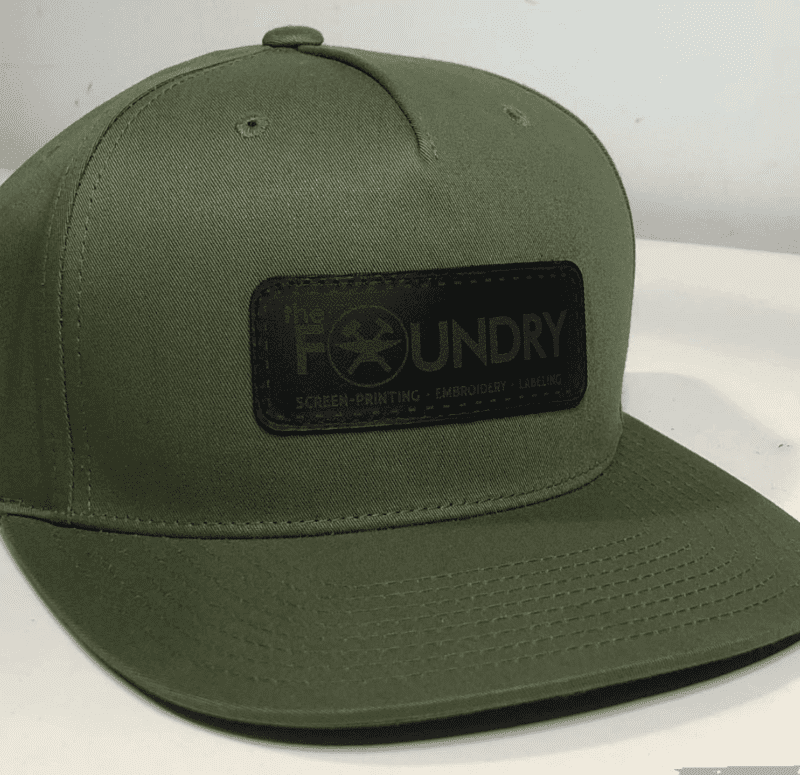 Custom Sublimated Patch Hats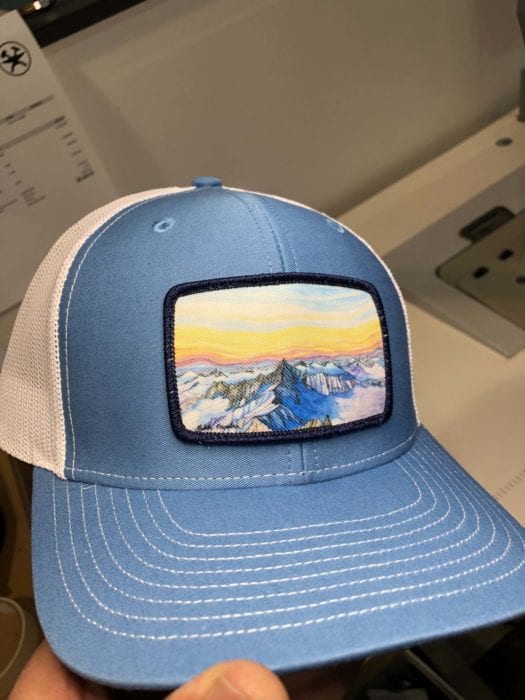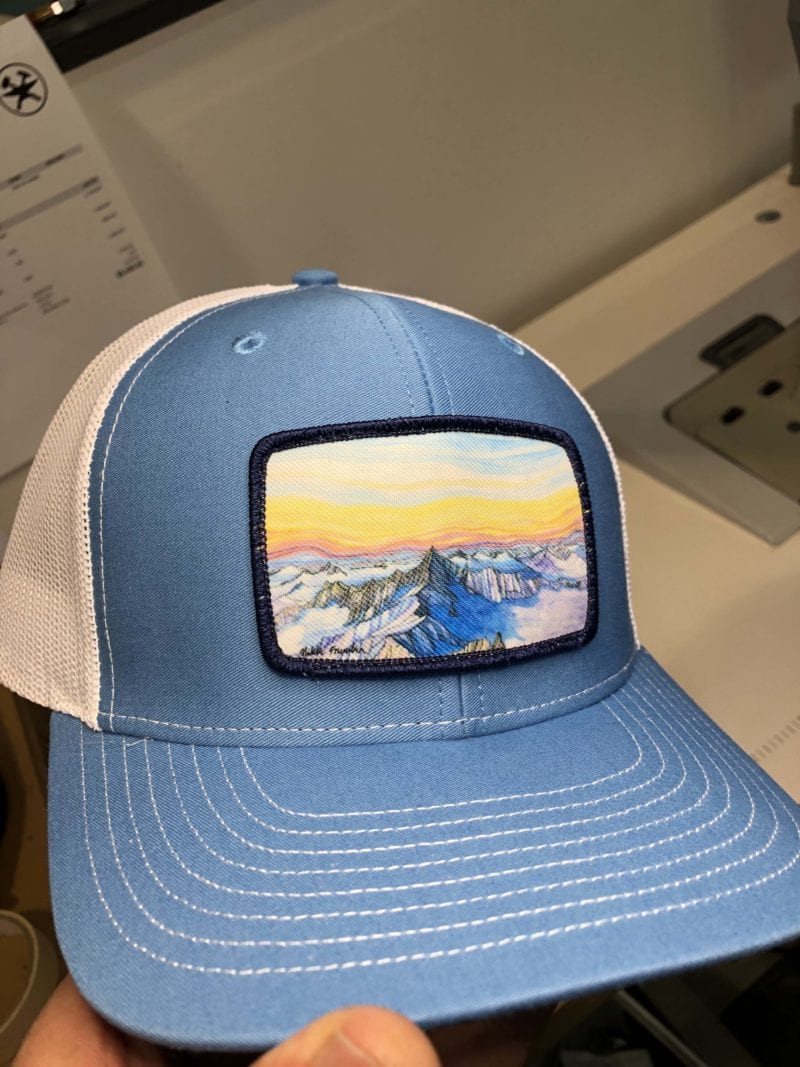 Custom Camo Beanies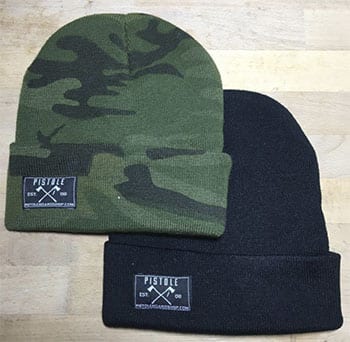 Daisley Gordon
2021-09-02
We've worked with The Foundry for two projects. Logo'ed kitchen towels which we sell and custom embroidered custom aprons for a special group of out staff at Café Campagne We were very happy with the results.
Peter Keckemet
2021-08-30
Great to work with, very helpful in getting concept to product.
Janet Charbonnier
2021-08-24
We love The Foundry! We too are a small business and appreciate working with another small local business. The communication was on spot, our bags and patches were perfect and our job was done in a timely manner. You guys rock!!!
jeremiah robinson
2021-08-04
These guys were awesome to work with! Not only were they more than helpful with the process of getting my shop custom shirts and hats, but also helped with getting the image I wanted to come to life a reality. Very helpful and easy to work with! highly recommend for your next project.
Nina Arranza-Riley
2021-08-03
I chose Foundry out of the many print shops available to us nearby because of their stellar communication and follow-up, plus they made the shirt-making and ordering so easy for me to understand! I have no knowledge of screen printing and shirts whatsoever, but with Clint and Kara's help I was able to pick and design one for my company AND THEY TURNED OUT AMAZING! Seriously, I can't thank you guys enough. The people at the Foundry are kind, helpful, patient and professional, answering my many questions and easing my worries. Project was completed on time and on budget, shipped fast, shirts were comfortable and the designs well printed. I am absolutely going back here in the future.
BS_creativeDir.
2021-05-05
Working with Foundry was a wonderful experience. Clint was professional and he helped us tremendously. I will most definitely do more business with Foundry. Foundry is A1.
Great experience with The Foundry! They were able to do a project super fast and the end result was awesome! I will be working with them again.
Drew Mortenson
2021-03-31
Fantastic customer service with friendly employees and high quality prints. They are great at accommodating for their customers and making sure that everything comes out absolutely perfectly. Definitely recommend for anyone who needs quality screen printing services!
The Foundry ROCKS!! So quick to respond and able to accommodate anything we threw at them! I can't wait to order from the team again!
Marcus Hahnemann
2021-03-29
I got awesome service and some really cool swag for my new business. Forrest talked me through best bang for my buck and with some high-quality items. The logos turned out great in my members at the Cle Elum Back9 love the gear. I've already had to re-order some more gear.