Printing and Embroidery on Pockets, Sleeves, Hoods and Pantlegs
Print and embroidery imprints on pockets, hoods, sleeves and pant legs can create an elevated and unique look. While they are relatively easy to execute there are a few guidelines that if followed will optimize your project for the best results. Knowledge is king in the custom garment business and we're here with the tools and know how to help bring your designs to life.
So first let's define some terms so this all makes sense. When we say "location" we're talking about where on the garment the print or embroidery will be placed. So a front chest print is one location and a sleeve print is another location. We use this terminology because each print location has to be executed with an individual setup and production process. In a lot of ways every print or embroidery location is a project in itself.
We'll use the term 'unique location' to define any print or embroidery location that is placed anywhere that would be lass conventional. There's a plethora of unique print locations, more than we can name and any and all you can think of follow the same principals below if you're trying to optimize your project outcome.
Let's take this one down by listing out the most common unique locations below. For each location we'll talk about the best practices but first let's cover the details that apply to all unique locations to save on some of the redundancy. In this article there's one thing I really want to get across. If you're prints or embroideries are in a unique location on the garment the limitations of printing and embroidery are exaggerated.
 Best Practices for All Unique Locations
Like we talked about above printing or embroidering in unique locations creates some inherent challenges. In screen-printing; seeves, pockets, hoods and pantlegs are far less dimensionally stable than your basic front and back prints. A lot of this has to do with hold down on the print press. We use a spray adhesive to temporarily adhere the garment to the platten while printing. Because you have to apply heat to semi cure the ink between print colors the garment tends to shrink and shift during production.  Most sleeve and pant leg prints are long making them more susceptible to the alignment issues from shrinking.
Embroidery has similar limitations in creating lengthy imprints. Because each thread color is embroidered out individually the thread tension needed for the embroidery machine to work properly causes the garment to collapse slightly. This distortion under the embroidery location causes registration issues where art and logo elements won't meet perfectly as intended. For left chest and other small embroidery locations this typically isn't an issue that is out of tolerance. However for large embroideries registration can become a real issue if not setup properly.
Now don't get me wrong, we figure out how to mitigate these effects but pushing the boundaries will always come with some additional challenges. This is why knowing what these limitations are and.knowing how to avoid conditions that are less than optimal is crucial. Also,k having the experience needed to course correct when an issue does occur during production is the difference between quality results and an compromised outcome.
Let's go over the more common unique locations and some of the details involved in setting them up for success.
Custom Screen Printed and Embroidered Sleeves and Pant Legs
Sleeves and pant legs are the most common unique location we apply logos and art to. We often joke about how our company tagline could be "The Foundry,  Home of the Sleeve Pint". As you can imagine northwesterners are wearing long sleeve apparel year round and as a late the double sleeve print has become a bit of a trend. Screen printing on sleeves and pant legs both long and short is pretty straight forward but there are some best practices that we can recommend.
Biceps hits, hip, full sleeves and wrist prints are the main ways of executing these garment locations. The max dimensions you can print on long-sleeves and pant legs is about 3.5in wide X 18in tall.  Keep in mind that sleeve length and width changes drastically between garment sizes and gender so size your art accordingly. Also keep your print color count to a minimum, I would recommend 3 color max and if you're pushing the dimensions long or wide even fewer.
If you are interested in embroidering on sleeves and pant legs, biceps, wrist, hip and ankle locations are the most common. Full length sleeves are not possible because the machine arm has limited reach and the hoops that hold the garment are round.  Because the bobbin side of the embroidery machine is somewhat bulky fitting it into small areas can be difficult. As a rule of thumb for inclosed areas if you can't fit a baseball into it you probably won't be able to fit it onto the embroidery machine.
Custom Screen Printed and Embroidered Pockets
Let's start here by looking at screen-printing on pockets. We will either insert the press platten into the pocket or more preferably we'll use a water-soluble spray adhesive to temporarily adhere the pocket closed. Care should be taken to make sure the pocket isn't stretched our damaged during printing. The same kinda rules apply here as with sleeves. Keep your art to 3 print colors max and if you're pushing the dimensions even fewer. We advise that you place the print at least 1 inch from any seam and always avoid printing over any seams.
For embroidery let's say again that in order to embroider any pocket it has to have enough interior volume to fit a baseball into. Also the entry point to the pocket needs to be at least 3 inches wide to accommodate the bobbin arm.
We'll often recommend patches or woven labels as alternatives to embroidery and printing in scenarios where there are dimensional compatibility issues. Printed heat and digital transfers are also great solutions for objects that are difficult to embellish or multi layered.
Custom Screen Printed and Embroidered Hoods
Hoods are typically two ply so any direct screen printing method is limited to single color. There are options for screen printed transfers on hoods but still the color count will be limited. Anything embroidered shows the bottom thread through the underneath of the garment because the machine sews through the material. Keep this in mind when embroidering hoods because you can see the underneath of impression with the hood up. We can match the bobbin thread color to the garment in some situations but it doesn't disguise the bottom thread entirely. Also large embroideries can be rather rigid so the hood may not lie correctly once embroidered.
If you know and understand the systems used in garment embellishments you'll find an advantage for every disadvantage. We work hard to explore and execute on the best practices. Come to us with all your questions and we'll help you get your project into a format that optimizes the imprint applications.
Heat Transfer Pockets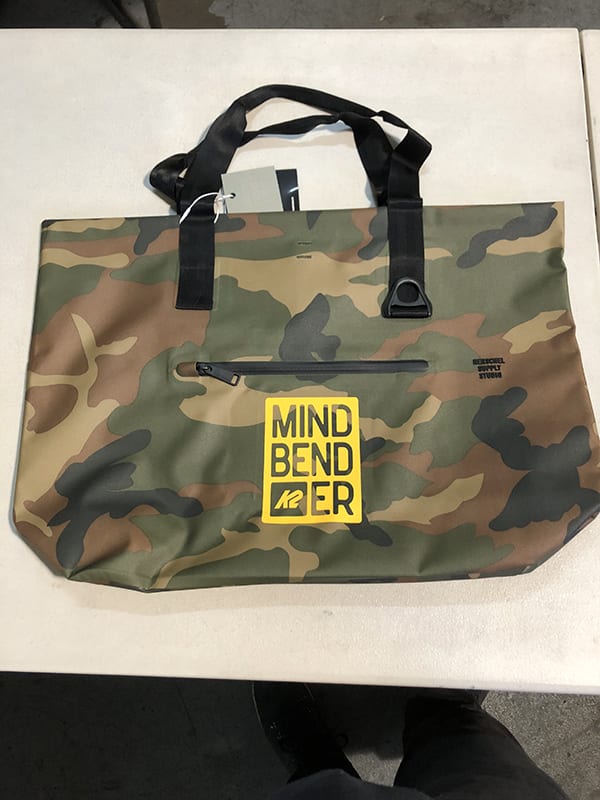 Pocket Sewn Patches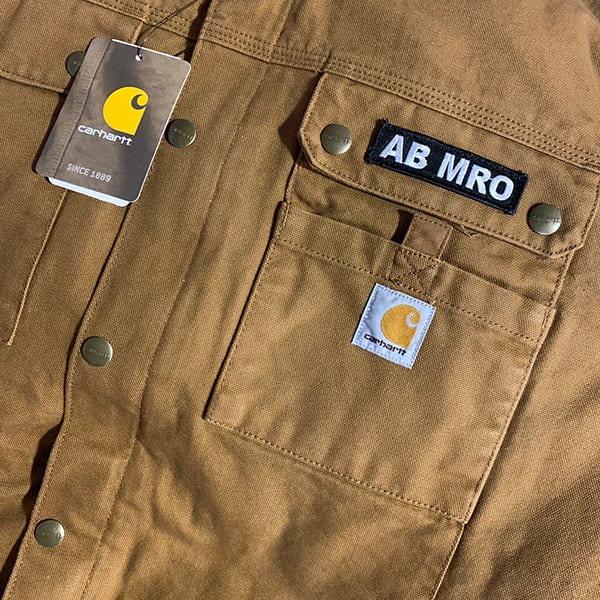 Printed Shortsleeves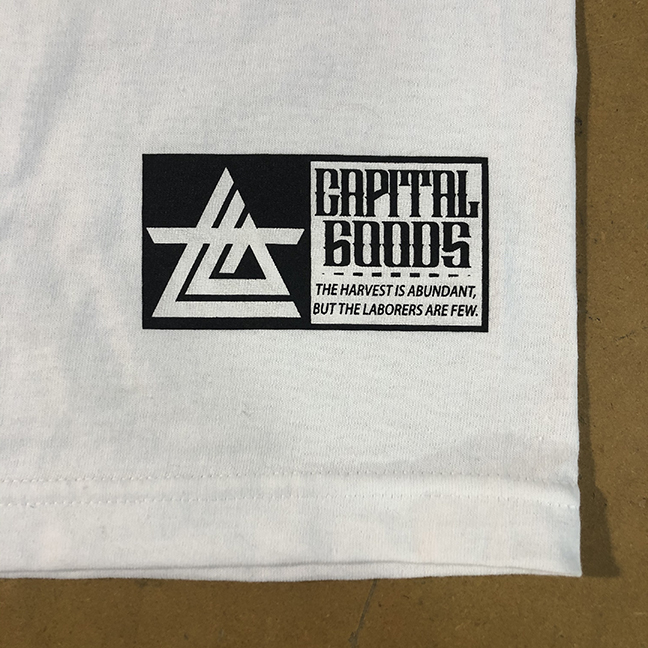 Printed Longsleeves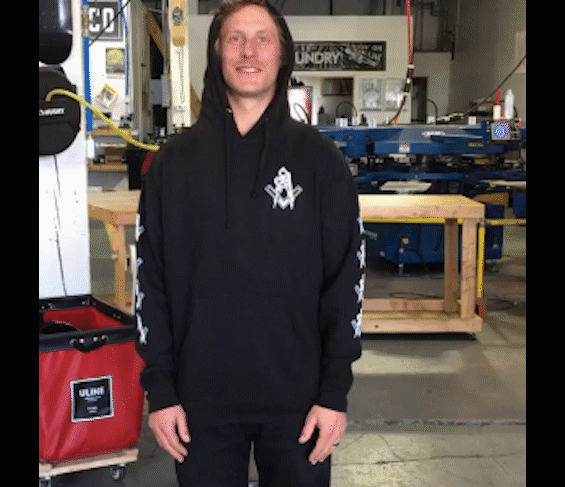 Embroidered Hoods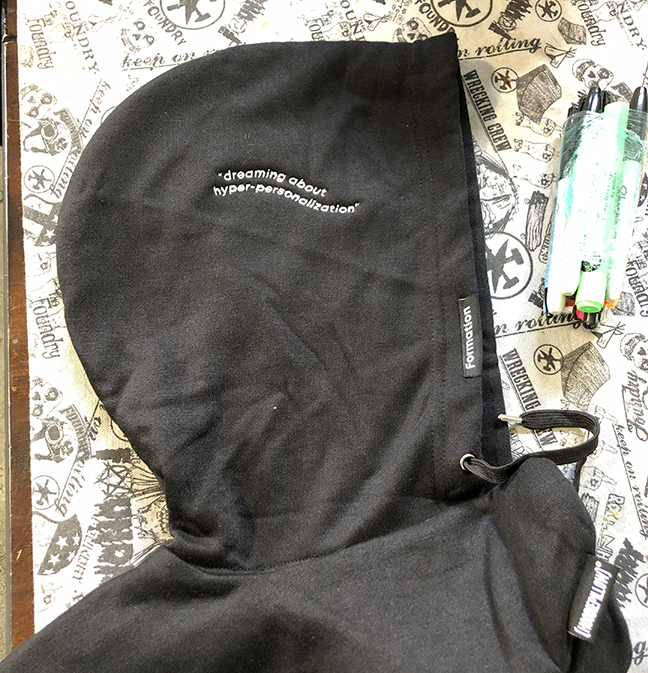 Dandee Fleming
2021-01-29
I've had shirts, hoodies, bags and hats (screens, embroidery and patches) all made at the The Foundry. I love that they are a local Seattle company and that I can drive over and pick up my products right at the shop if I want to. Quick turn around and great prices. I recommend them for all your product needs.
Super great print shop. They were able to steer us in the direction of making a product that would work with the right design. The end results are quality, stitched beanies, one of our finest pieces of merch yet.
Look no further - my business has used shirts and promo items for a couple decades and The Foundry is as professional as they come. It's a relief to know you're dealing with a full staff with modern equipment - 2 auto-presses and sophisticated embroidery machines. The Crash Course on their website is an invaluable tool to prep you for what to expect; scroll down and check it out, it will save everyone time and money. Keep it up!
Jordan Bradley
2020-12-29
Worked with Clint and The Foundry a couple times now for special order projects. They're always responsive, very quick to get projects and mock ups made, and do awesome work. Will definitely be using them again for any embroidery needs we have!
We have worked with the Foundry on several different headware options for our brewery. The owners are very responsive, super knowledgeable about the products and can help with finding the best product for your needs. The quality of embroidering and stitching is on point. We are always happy to support this local business!