Ordering Information
If you're wondering  "how do I go about placing an order" you're not alone, most customers come into our services with little experience in screen-printing, embroidery, labeling and/or garment sourcing. Fortunately we're here to make it as easy as possible. The fastest way to get your project going is through the quote link below.
If you'd like to dig into more information about art submission and garments please read on.
Every project starts with the garment, knowing the garment and fabric type will dictate the process used to apply your art. Let us know what type of garment you're looking for and we'll send links to products that match your description. The Sourced Garments 101 post is a great resource for this. If you have a specific style number in mind.. Great. You'll receive all the pricing in your initial quote.
Art Submission 
For optimal print quality please submit your art either in vector format or as a 300+DPI PDF, PSD, TIFF or JPG. If possible submit your art flattened and at size. Screen colors vary from monitor to monitor so if you need exact pantones please submit the PMS numbers from the coated book with your art. Do not submit your art pre separated. We understand that this portion can be confusing so just let us know if you have any questions. Here's a great resource for sizing your art A Guide to Sizing your Graphics.
Payment 
Once we have your garment styles, the size run and the art and application established we put together an invoice. This will show all of the job costs and mockups for approval. From here we ask that you take the time to thoroughly read through your invoice and make sure that all the details are to your specification. Once confirmed we either take payment up front or on large order sometimes we'll take 50% upfront and 50% on delivery.
Production and Lead Time
With the payment placed we move to production with your order by gathering all the assets needed to process your project. Typically we run at 2-3 weeks but during high volume seasons we may specify pre-deposit that our lead time have extended. If you request photo press checks please understand that we need you to reply within 10 minutes. Waiting for approval is costly down time for our staff and can affect the chemistry used in production.
Project Completion
Once your project is complete we will notify you that it is available for pick up or has shipped based on your preferences. Only under special circumstances do we allow pick up or ship without final payment. If you find blems or errors in your counts while unpacking we're always happy to issue a credit or refund accordingly. All invoices that go 30 days past due incur a 10% up-charge and an additional 15% every 30 day period there after.
Basic information:
Please note that we maintain a minimum per style however there are some exceptions based on project complexity and garment cost.
We accept all forms of payment. Cash, check or card. (Visa, MasterCard, Discover and American
Express)
We provide mockups for every project, we ask that you approve the artwork before we take the deposit.
We are a registered wholesaler and our customers are eligible for tax exempt transactions provided they submit a resale ID.
Although we do not save screens we do save all of your digital files to a database so reproduction is easy. We call this reset and it comes at half the cost of your original setups.
Good communication is crucial to a successful project, with so many details involved we appreciate your taking the time to clearly explain your creative vision and be prompt to respond to any questions we may have about your project.
Every project is a new challenge in contract garment embellishment and if every stage is methodically planned out and the proper time is taken it can be fun and easy. You're going to have questions, that's cool. Just ask us!
We understand the importance of these relationships and are passionate about bringing you the best personalized screen-printing services possible. Our Seattle-based team is dedicated to becoming familiar with our customers' profession and goals so that we can materialize exactly what you envision in your mind.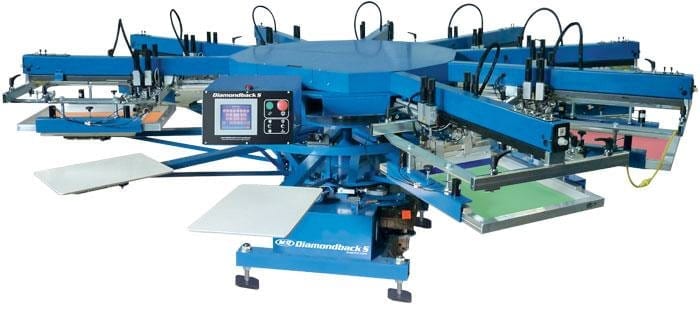 Our custom screen-printing begins with the art and the garment. Choosing what type of material to print your art on is essential in determining the overall printability of the clothing. For example, many of the features that make modern fabrics so comfortable and high-quality can also make them difficult or nearly impossible to successfully use for printing. So, deciding on the fabric material is a critical first step to producing excellent custom screen-printing products. Our experience in silkscreen printing ensures success throughout the production process, because we get it right during the setup stage.
The next step in our screen-printing services involves what we call separations, which 'separate' the art into its positives and negatives. There are a number of ways this can be done, depending on the complexity of the art. Generally, the more complex the image is, the more separations that are required. We then use those separations and place them in individual framed screens, which become the stencil that the ink will pass through onto the garment. Next, we align those stencils on the press and begin test printing—determining optimal squeegee pressure, pre-cure temperatures, print speeds and final touches.
If you're after durable and detailed silkscreen printing, let The Foundry Print and Embroidery Shop help you get the job done right. We look forward to transforming your design into a beautiful masterpiece!
Learn about some of the more common screen printing systems and methods.
Different fabrics require different print processes.