Custom Packaging and Labeling for Apparel
Creative custom apparel packaging is a great way to set your products apart and preserve them for safe distribution. There are many options like apparel poly-bags and custom apparel hang tags for you to take advantage of when working with The Foundry Screen Print and Embroidery Shop.
Let's go over the finishing services we provide and which of them are included with every custom print and embroidery project and which are considered additional finishing.
Sorting, Labeling Cartons and Packing
All projects that come across our job board get packed out in healthy cartons with identifying box labels and an unpriced pack slip. We bulk fold all the custom garments by size and design. We try and pack them in the most logical way possible for easy receival on your end.
All of our payment and approval transaction processing is done online as well as automated notifications for pickup or ship upon completion. Once your project is complete you will receive an email that it is has shipped or is ready for pick up based on your preferences.
You will set your receival and packaging preferences when setting up your project with our staff.  If you choose to have your project shipped your live online invoice will contain your tracking for easy access. Your completion notification email will contain a link to your invoice.
Custom Poly Bagging for Apparel and Accessories
We have automated bagging machine to process items that need individual folding and bagging for an additional cost. It can accommodate almost any type of apparel including custom tees, hoodies, hats, jackets and pants. We also have several types of heat sealers and bag sizes for larger size applications like custom backpacks and duffle bags. All bagged items come with a size sticker and or a custom UPC label if required.
Custom hang tags and retail finishing
We can create all types of custom hang tags for your printed and embroidered project. We can also create and attach removable stickers to the garments for legal copy, aesthetic or authentication purposes. You have a choice of a string and safety pin or a plastic lanyard to attach your custom hang tag with. Please be sure and let us know the location on the garments where you would like to custom label attached when setting up your project.
Blind Ship Custom Apparel
We can blind ship your project to your customer if needed. This would include generic box labeling or labelling with your branding if needed. We ask that you verify the shipping address with your customer before providing it to us and it may be easier for you to provide the shipping labels. Make sure to let us know that this condition in required early on so we can plan accordingly.
Split Ship Your Project
We can split ship your project to multiple locations as long as we are provided with clear counts and an extended lead time for sorting. In this scenario it can often be easier to process it as two seperate order but we'll determine that when initiating the project. Again make sure to let us know that this condition in required early on so we can plan accordingly. We do not do fulfillment printing or shipping.
International Shipping
We do not ship international on our account, we can process project that require international shipping but we ask that the customer provides the shipping labels and takes responsibility for and importing procedures.
Additional Custom Details
There are a lot of ways to spruce up you packaging! Some that come to mind are custom branded stickers for your customer that we can include in every bag. Custom boxes for special gifts and multiple inner packaging like three shirts in a bag as part of a package. We're flexible and want to give you the creative freedom to make something awesome.
Automatic Bagging Machine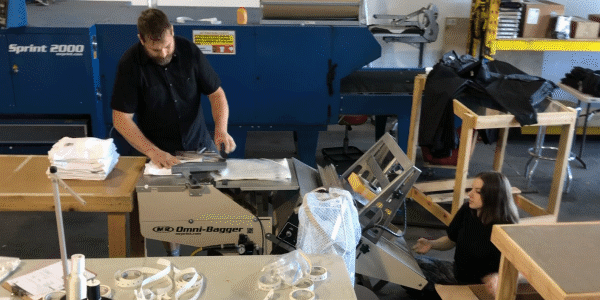 Custom Hang Tags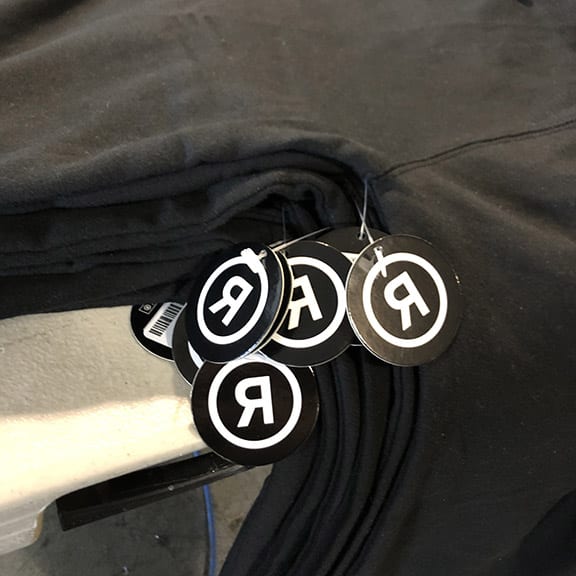 Poly Bagged Tees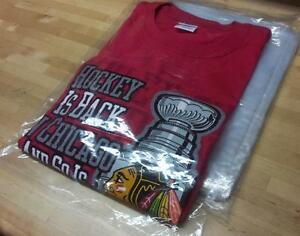 Palletized Custom Apparel Project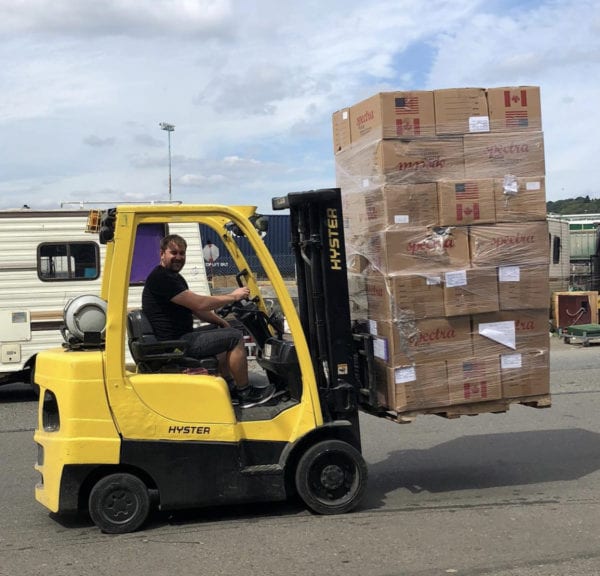 Individually Box Apparel Project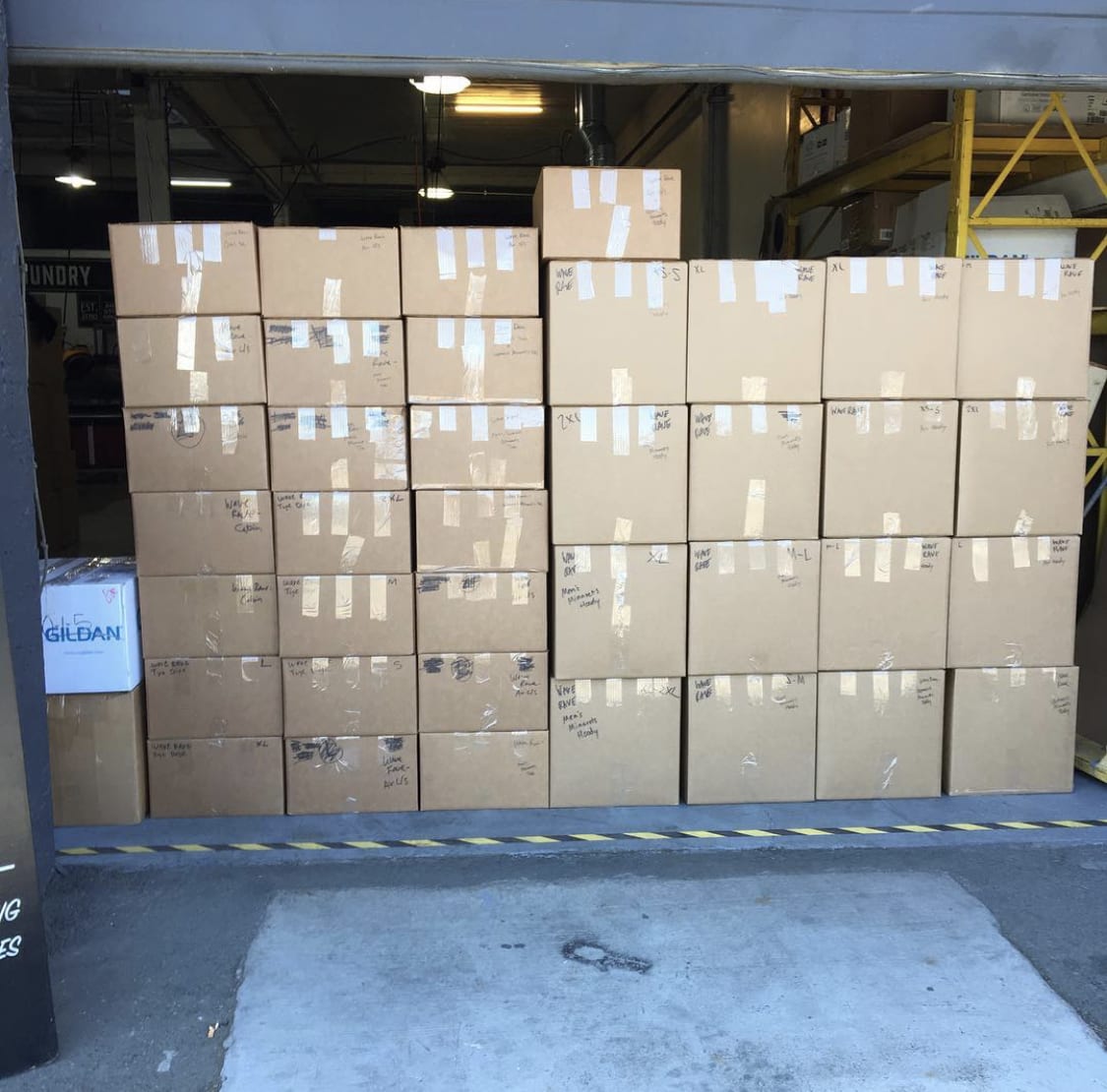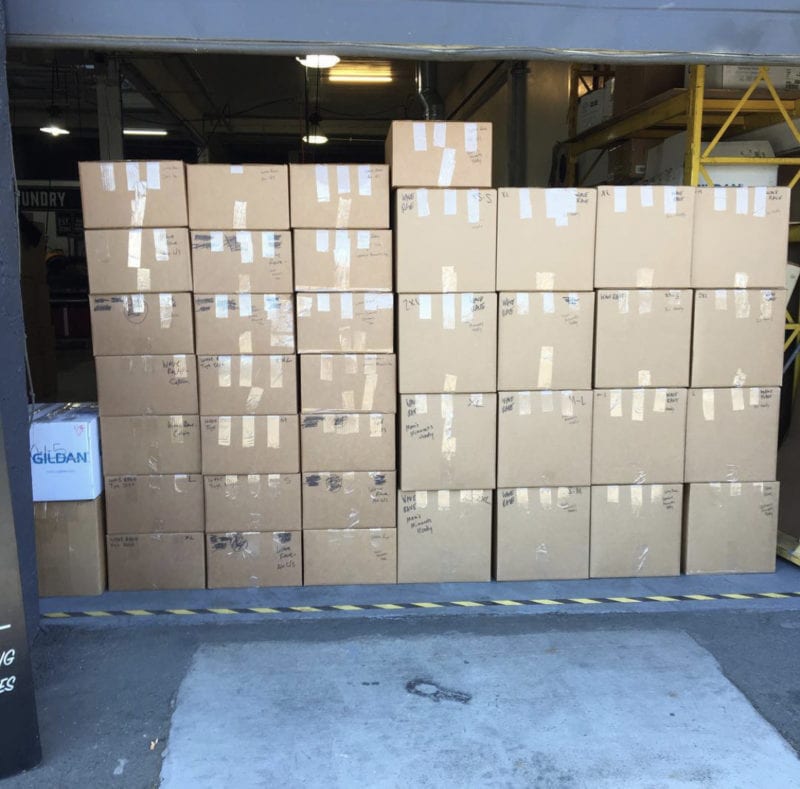 Daisley Gordon
2021-09-02
We've worked with The Foundry for two projects. Logo'ed kitchen towels which we sell and custom embroidered custom aprons for a special group of out staff at Café Campagne We were very happy with the results.
Peter Keckemet
2021-08-30
Great to work with, very helpful in getting concept to product.
Janet Charbonnier
2021-08-24
We love The Foundry! We too are a small business and appreciate working with another small local business. The communication was on spot, our bags and patches were perfect and our job was done in a timely manner. You guys rock!!!
jeremiah robinson
2021-08-04
These guys were awesome to work with! Not only were they more than helpful with the process of getting my shop custom shirts and hats, but also helped with getting the image I wanted to come to life a reality. Very helpful and easy to work with! highly recommend for your next project.
Nina Arranza-Riley
2021-08-03
I chose Foundry out of the many print shops available to us nearby because of their stellar communication and follow-up, plus they made the shirt-making and ordering so easy for me to understand! I have no knowledge of screen printing and shirts whatsoever, but with Clint and Kara's help I was able to pick and design one for my company AND THEY TURNED OUT AMAZING! Seriously, I can't thank you guys enough. The people at the Foundry are kind, helpful, patient and professional, answering my many questions and easing my worries. Project was completed on time and on budget, shipped fast, shirts were comfortable and the designs well printed. I am absolutely going back here in the future.
BS_creativeDir.
2021-05-05
Working with Foundry was a wonderful experience. Clint was professional and he helped us tremendously. I will most definitely do more business with Foundry. Foundry is A1.
Great experience with The Foundry! They were able to do a project super fast and the end result was awesome! I will be working with them again.
Drew Mortenson
2021-03-31
Fantastic customer service with friendly employees and high quality prints. They are great at accommodating for their customers and making sure that everything comes out absolutely perfectly. Definitely recommend for anyone who needs quality screen printing services!
The Foundry ROCKS!! So quick to respond and able to accommodate anything we threw at them! I can't wait to order from the team again!
Marcus Hahnemann
2021-03-29
I got awesome service and some really cool swag for my new business. Forrest talked me through best bang for my buck and with some high-quality items. The logos turned out great in my members at the Cle Elum Back9 love the gear. I've already had to re-order some more gear.