Screen Printed and Embroidered Bags, Packs and Totes
Customizing bags and totes is a great way to get your logo out there and provides a great up-sale option. We have an extensive variety of customizable totes, duffels, backpack, cinch bags and sports packs for an easy and affordable retail or promotion product.
Custom Tote Bags
Let's look at totes first since they are the most popular carry accessory that we embellish. They come in a variety of sizes, styles and quality levels to meet your custom tote project needs. The first thing you'll want to think about is how the bottom of the tote is constructed and what will best suit the usage of the tote. Totes fall into one of two bottom construction styles, fold bottom or gusseted bottom. The fold bottom totes are simple single part construction where the gusseted totes are multi part construction. Below are examples of both.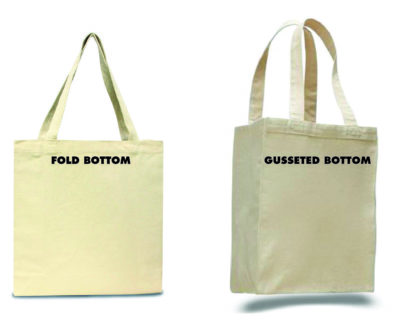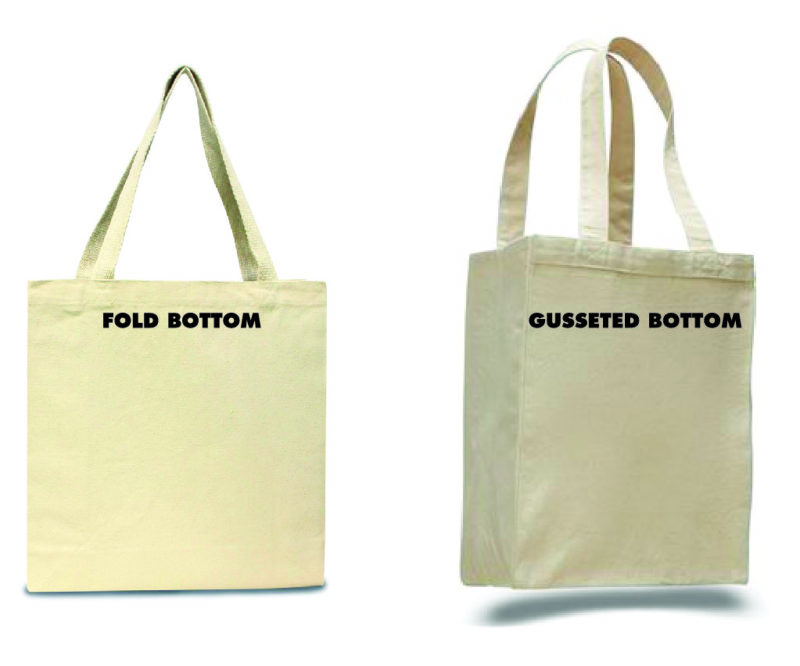 When it comes to printing totes it's a good idea to keep your art 3 colors or less because the material they are made from is heat sensitive. Like all printing scenarios it's never a bad idea to use the color of the tote in the art if possible. We'll ask you if you'd like the single side or dual side printing so please give that some thought. As a final note here I want to mention that embroidery, embroidered patches and custom woven labels are great options to customize totes.
Custom Duffel Bags
Duffel bags have many uses whether it's packing sports gear around, travel or hitting the gym and we have all the duffels to accommodate your custom projects. With all the various styles on the market we look at every individual product to determine the best practices when decorating them. Embroidery is probably the most popular way to customize duffels but we offer several embellishment options to make sure we are flexible and capable with your requests.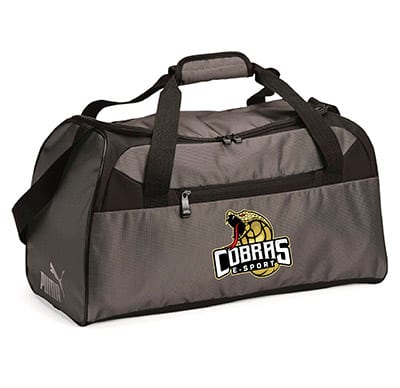 When you approach us with a custom duffle project we'll look at the product that you prefer and you art files. We'll then produce mockups with your customization options based on the construction of the bag. Pockets, webbing, zippers and convex surfaces all make for interesting decoration conditions but you can count on us to use our experience and our knowledge of printing, sewing and embroidery to get your custom duffels done right.
Custom Backpacks
Customized backpacks are an essential for school and sports organizations, they are also a great addition to an apparel product line or as gifts for employees. We source many of the most popular brands in backpacks and have all the print and embroidery technology to make them uniquely yours.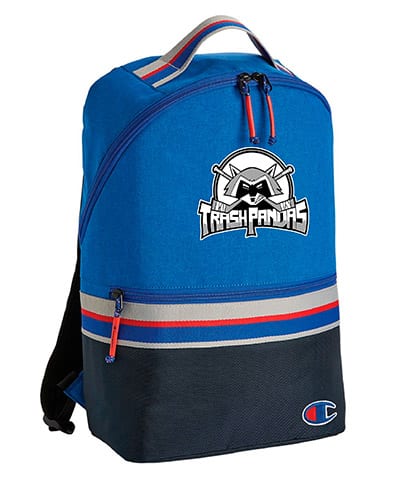 There are many ways to customize backpacks, these include embroidery, patches, printing and custom transfer vinyl. Same things apply here as duffels above. Pockets, webbing, zippers and convex surfaces all make for interesting decoration conditions but you can count on us to use our experience and our knowledge of printing, sewing and embroidery to get your custom backpacks done right.
The Foundry Print Shop Way
We pride ourselves on customer service and creative and quality products. When you bring your custom projects to us you'll experience the difference the way we blend old school resourcefulness and the most modern tech in transaction processing and custom apparel applications.
Where quality is sustainability The Foundry is your #1 choice for the best in the business.
Daisley Gordon
2021-09-02
We've worked with The Foundry for two projects. Logo'ed kitchen towels which we sell and custom embroidered custom aprons for a special group of out staff at Café Campagne We were very happy with the results.
Peter Keckemet
2021-08-30
Great to work with, very helpful in getting concept to product.
Janet Charbonnier
2021-08-24
We love The Foundry! We too are a small business and appreciate working with another small local business. The communication was on spot, our bags and patches were perfect and our job was done in a timely manner. You guys rock!!!
jeremiah robinson
2021-08-04
These guys were awesome to work with! Not only were they more than helpful with the process of getting my shop custom shirts and hats, but also helped with getting the image I wanted to come to life a reality. Very helpful and easy to work with! highly recommend for your next project.
Nina Arranza-Riley
2021-08-03
I chose Foundry out of the many print shops available to us nearby because of their stellar communication and follow-up, plus they made the shirt-making and ordering so easy for me to understand! I have no knowledge of screen printing and shirts whatsoever, but with Clint and Kara's help I was able to pick and design one for my company AND THEY TURNED OUT AMAZING! Seriously, I can't thank you guys enough. The people at the Foundry are kind, helpful, patient and professional, answering my many questions and easing my worries. Project was completed on time and on budget, shipped fast, shirts were comfortable and the designs well printed. I am absolutely going back here in the future.
BS_creativeDir.
2021-05-05
Working with Foundry was a wonderful experience. Clint was professional and he helped us tremendously. I will most definitely do more business with Foundry. Foundry is A1.
Great experience with The Foundry! They were able to do a project super fast and the end result was awesome! I will be working with them again.
Drew Mortenson
2021-03-31
Fantastic customer service with friendly employees and high quality prints. They are great at accommodating for their customers and making sure that everything comes out absolutely perfectly. Definitely recommend for anyone who needs quality screen printing services!
The Foundry ROCKS!! So quick to respond and able to accommodate anything we threw at them! I can't wait to order from the team again!
Marcus Hahnemann
2021-03-29
I got awesome service and some really cool swag for my new business. Forrest talked me through best bang for my buck and with some high-quality items. The logos turned out great in my members at the Cle Elum Back9 love the gear. I've already had to re-order some more gear.