Screen Printed and Embroidered Bags, Packs and Totes
Customizing bags and totes is a great way to get your logo out there and provides a great up-sale option. We have an extensive variety of customizable totes, duffels, backpack, cinch bags and sports packs for an easy and affordable retail or promotion product.
Custom Tote Bags
Let's look at totes first since they are the most popular carry accessory that we embellish. They come in a variety of sizes, styles and quality levels to meet your custom tote project needs. The first thing you'll want to think about is how the bottom of the tote is constructed and what will best suit the usage of the tote. Totes fall into one of two bottom construction styles, fold bottom or gusseted bottom. The fold bottom totes are simple single part construction where the gusseted totes are multi part construction. Below are examples of both.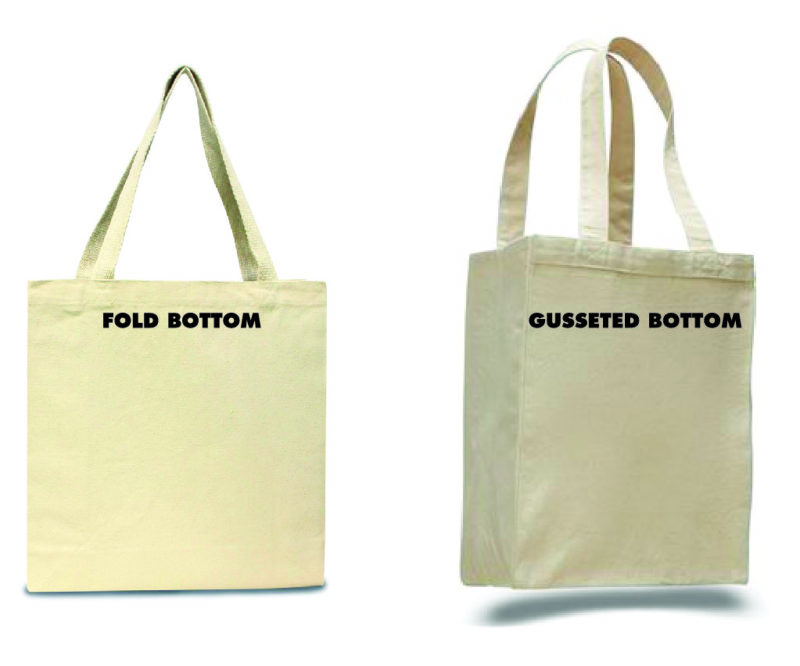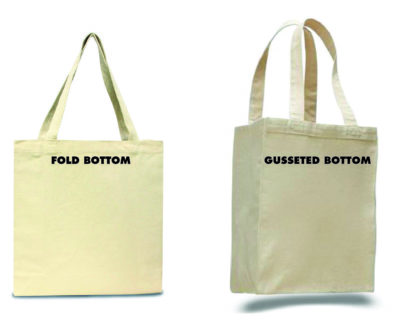 When it comes to printing totes it's a good idea to keep your art 3 colors or less because the material they are made from is heat sensitive. Like all printing scenarios it's never a bad idea to use the color of the tote in the art if possible. We'll ask you if you'd like the single side or dual side printing so please give that some thought. As a final note here I want to mention that embroidery, embroidered patches and custom woven labels are great options to customize totes.
Custom Duffel Bags
Duffel bags have many uses whether it's packing sports gear around, travel or hitting the gym and we have all the duffels to accommodate your custom projects. With all the various styles on the market we look at every individual product to determine the best practices when decorating them. Embroidery is probably the most popular way to customize duffels but we offer several embellishment options to make sure we are flexible and capable with your requests.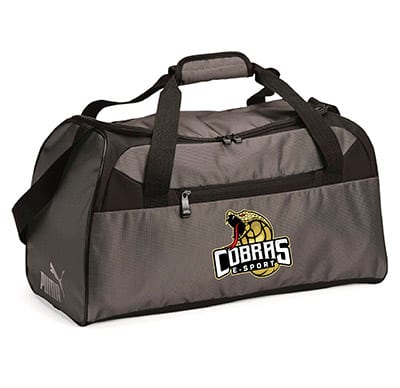 When you approach us with a custom duffle project we'll look at the product that you prefer and you art files. We'll then produce mockups with your customization options based on the construction of the bag. Pockets, webbing, zippers and convex surfaces all make for interesting decoration conditions but you can count on us to use our experience and our knowledge of printing, sewing and embroidery to get your custom duffels done right.
Custom Backpacks
Customized backpacks are an essential for school and sports organizations, they are also a great addition to an apparel product line or as gifts for employees. We source many of the most popular brands in backpacks and have all the print and embroidery technology to make them uniquely yours.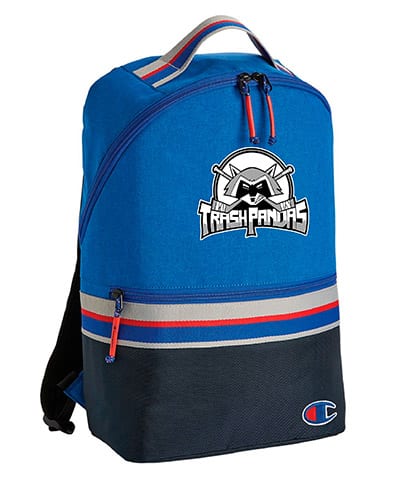 There are many ways to customize backpacks, these include embroidery, patches, printing and custom transfer vinyl. Same things apply here as duffels above. Pockets, webbing, zippers and convex surfaces all make for interesting decoration conditions but you can count on us to use our experience and our knowledge of printing, sewing and embroidery to get your custom backpacks done right.
The Foundry Print Shop Way
We pride ourselves on customer service and creative and quality products. When you bring your custom projects to us you'll experience the difference the way we blend old school resourcefulness and the most modern tech in transaction processing and custom apparel applications.
Where quality is sustainability The Foundry is your #1 choice for the best in the business.
Dandee Fleming
2021-01-29
I've had shirts, hoodies, bags and hats (screens, embroidery and patches) all made at the The Foundry. I love that they are a local Seattle company and that I can drive over and pick up my products right at the shop if I want to. Quick turn around and great prices. I recommend them for all your product needs.
Super great print shop. They were able to steer us in the direction of making a product that would work with the right design. The end results are quality, stitched beanies, one of our finest pieces of merch yet.
Look no further - my business has used shirts and promo items for a couple decades and The Foundry is as professional as they come. It's a relief to know you're dealing with a full staff with modern equipment - 2 auto-presses and sophisticated embroidery machines. The Crash Course on their website is an invaluable tool to prep you for what to expect; scroll down and check it out, it will save everyone time and money. Keep it up!
Jordan Bradley
2020-12-29
Worked with Clint and The Foundry a couple times now for special order projects. They're always responsive, very quick to get projects and mock ups made, and do awesome work. Will definitely be using them again for any embroidery needs we have!
We have worked with the Foundry on several different headware options for our brewery. The owners are very responsive, super knowledgeable about the products and can help with finding the best product for your needs. The quality of embroidering and stitching is on point. We are always happy to support this local business!