How to Use the Online Apparel Designer
We want to give our customers as many tools as possible to create their custom hoodies, tees, hats and more! Our Online Apparel Designer is a great resource if you want to experiment with uploading and placing your logo. It also allows you to easily customize text and clip art.
The first thing that makes our online designer unique is that it doesn't take payment. It simply emails us your information and mockups so we can get back to you with a quote. Because there is so much that goes into custom apparel we want to make sure you have all the details and recommendations to make the right decision for your project.
Click the button below to open the Online Designer Page. This should launch in a new tab.
When you first land on the page you'll see a notice stating that the online designer submissions are for reference only. This is because there are no algorithms out there that can replace our knowledgeable sales crew. Once submitted we'll come back with comprehensive pricing and garment recommendations.
Let's Get Into Designing Some Apparel Online!
First thing you'll want to do is launch the Online Apparel Design Tool. The tool loads tee shirts as the default product. However you can change the product form the "Select Another Product" button.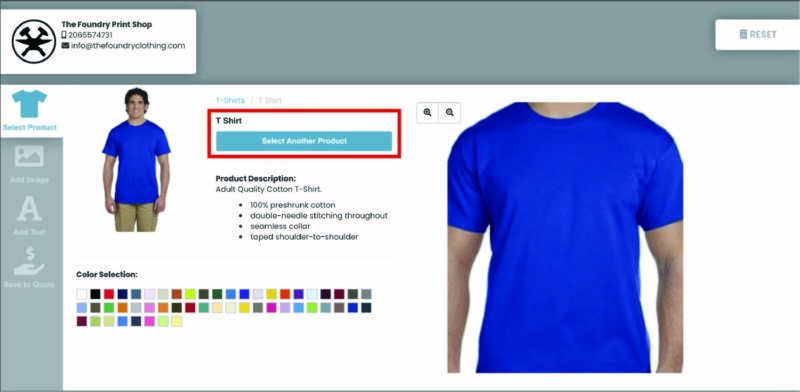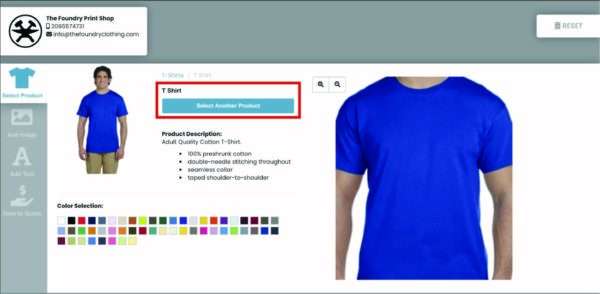 From here choose the product category you would like place your designs on. If the exact category or product you're looking for isn't listed you can use the next closest thing. For example if you wanted create a trucker hat selecting the fitted or snapback hat would be fine. Just note that you would like a trucker hat in the additional notes section at the end.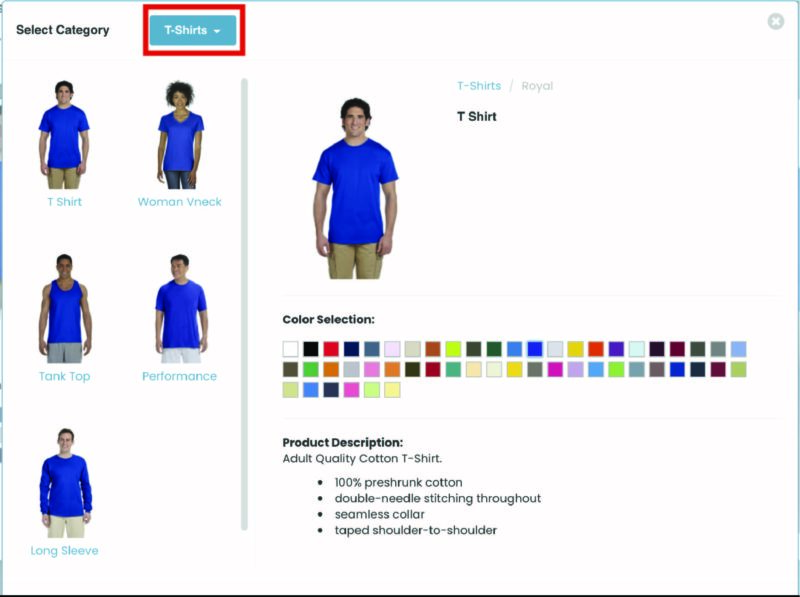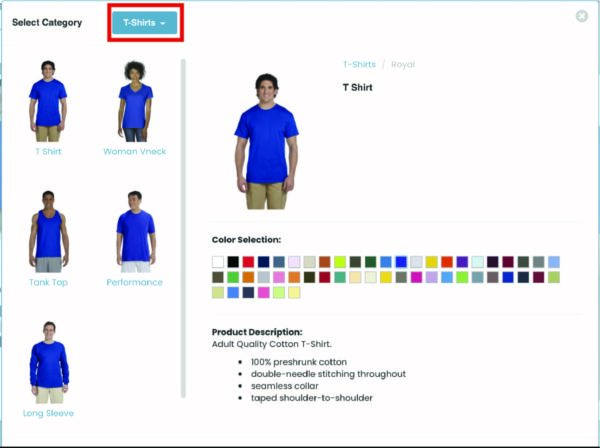 I want to design a custom jacket so I've selected the Hooded Jacket then clicked "Select This Product" from the bottom of the screen.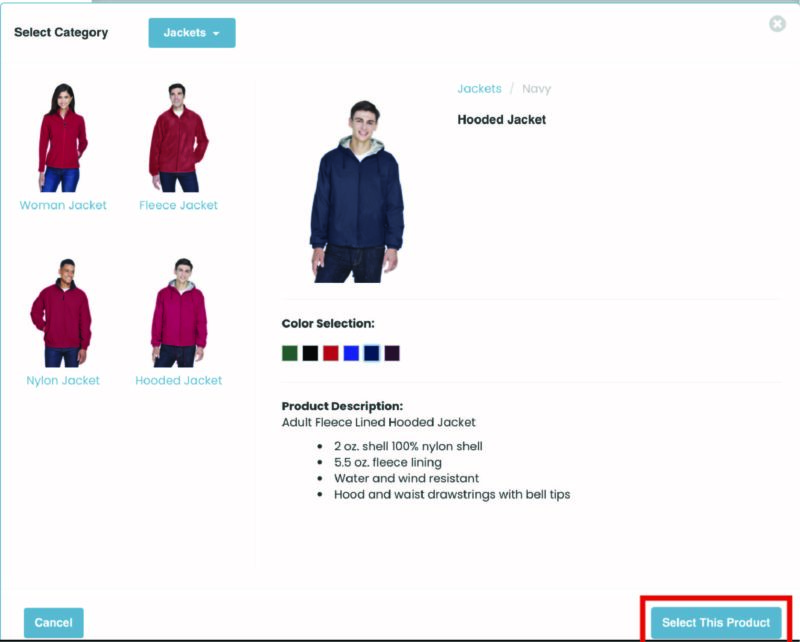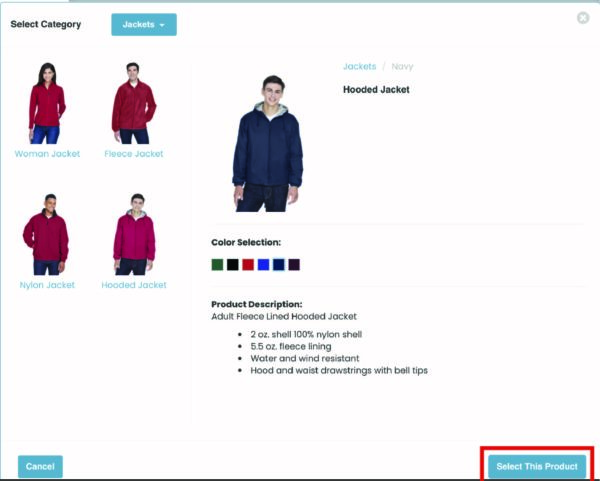 Now let's choose the color. I'm interested in a Red Jacket. Try and find the product and color that matches your end vision as close as possible. You will get final mockups from us including the actual products before the project begins.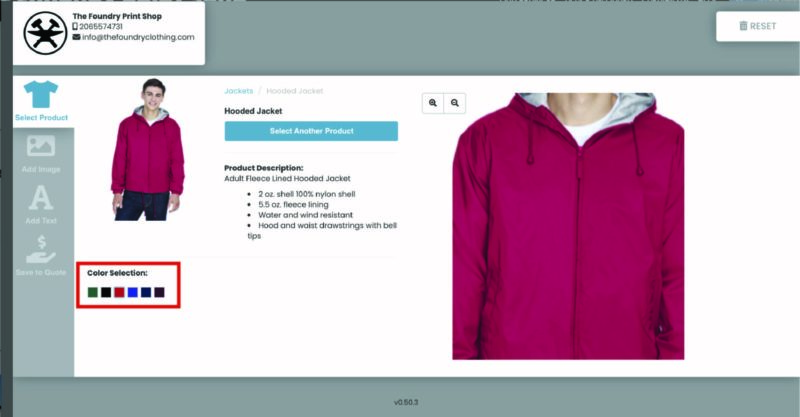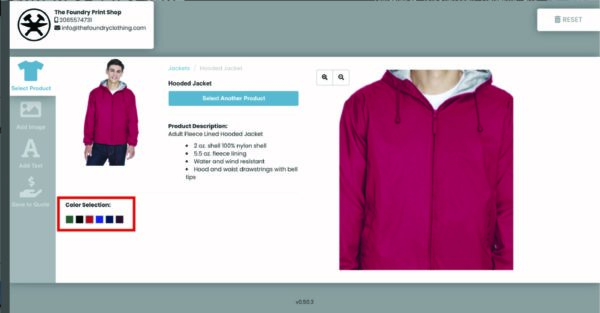 Ok since we've settled on a product, let's choose the print/embroidery file we want from our hard drive. You can also browse our clip art library form here, if your only designing with text can move to the next section.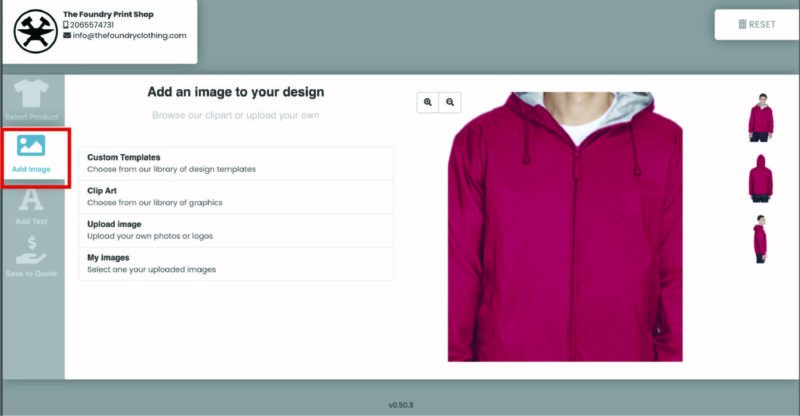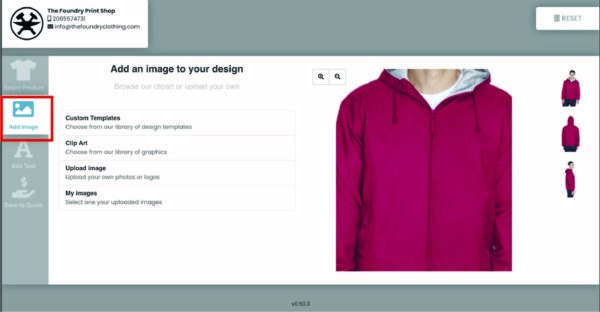 Here we are uploading the file and since my logo has a white background I'm going to select "Remove All White". You can also upload PNG and TIFF files that have transparency already in them.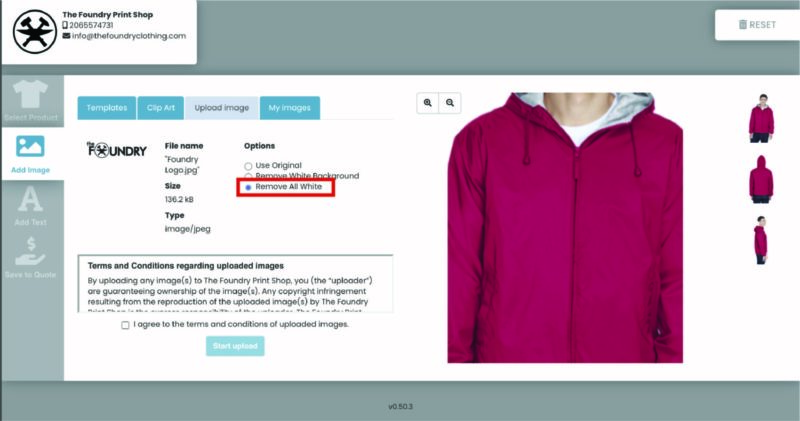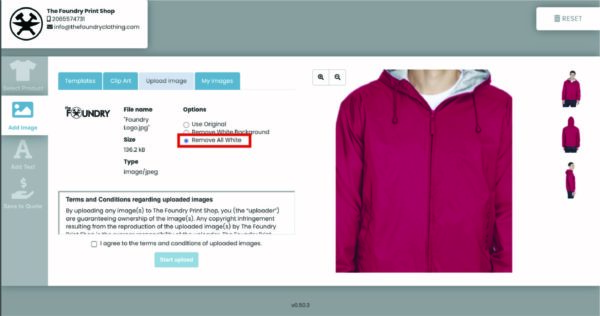 Now that our art is uploaded let's place it where we want it and size it accordingly. The box that boarderes your uploaded image has buttons on all 4 sides that allow you to scale, rotate,  layer and remove the art file.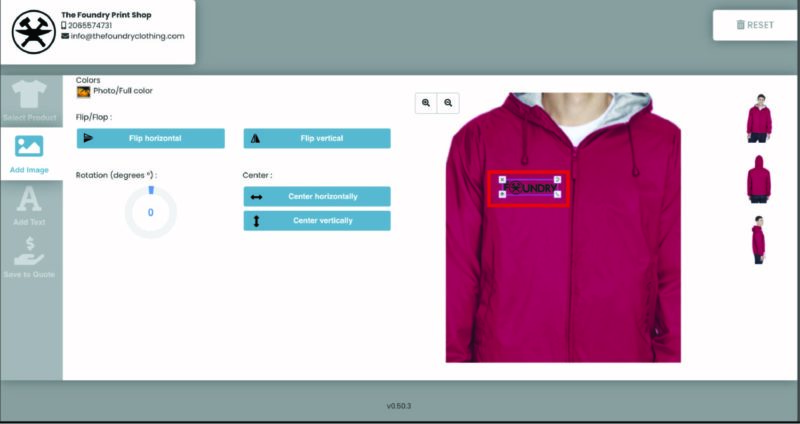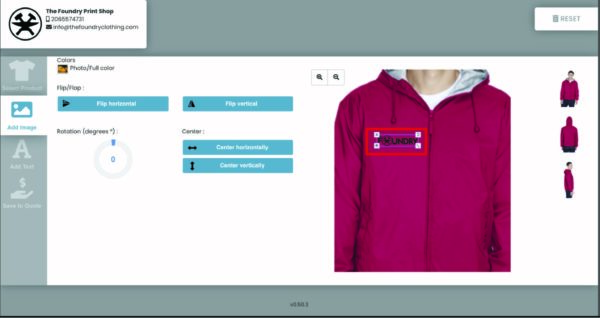 I also want a back print on my jacket so I'll select the back view from the right and place another logo there just like above.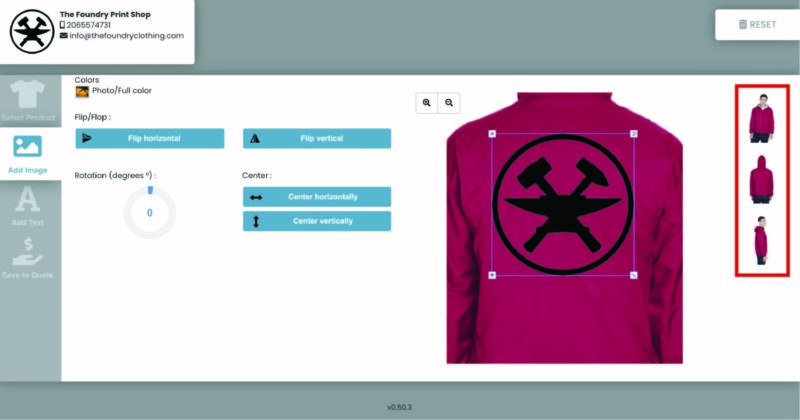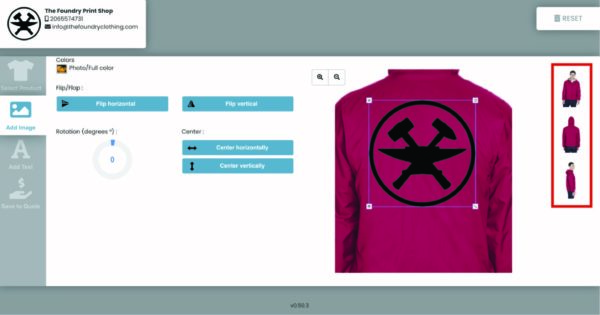 Now I'd like to add some text below my image. I can select the color, size and font type.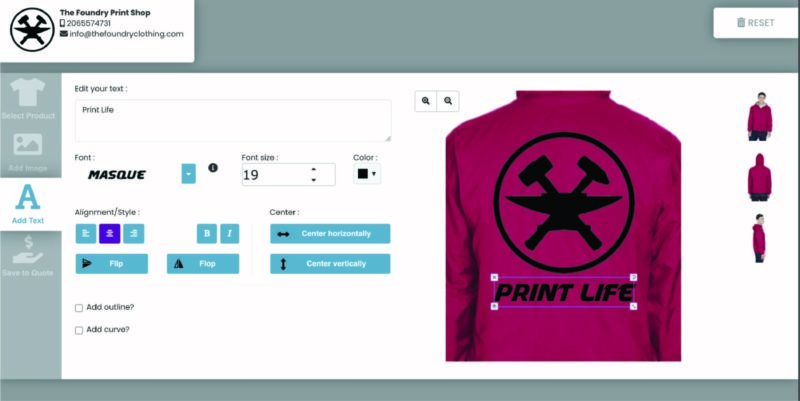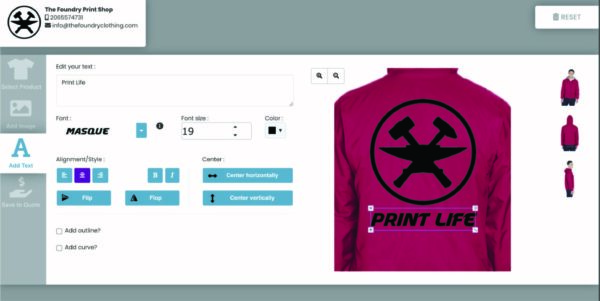 Now that our design is all awesome let's put the size run together. Enter the amount in each size you would like.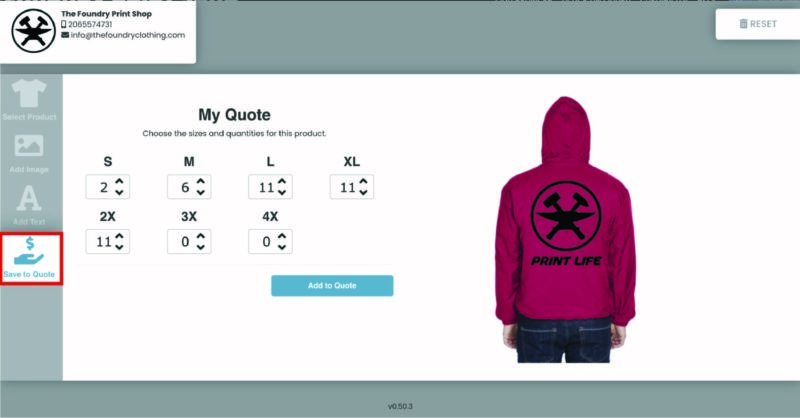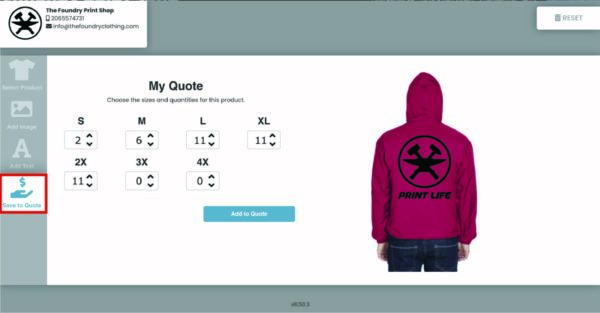 Once added to quote you have the option to add another product to this quote.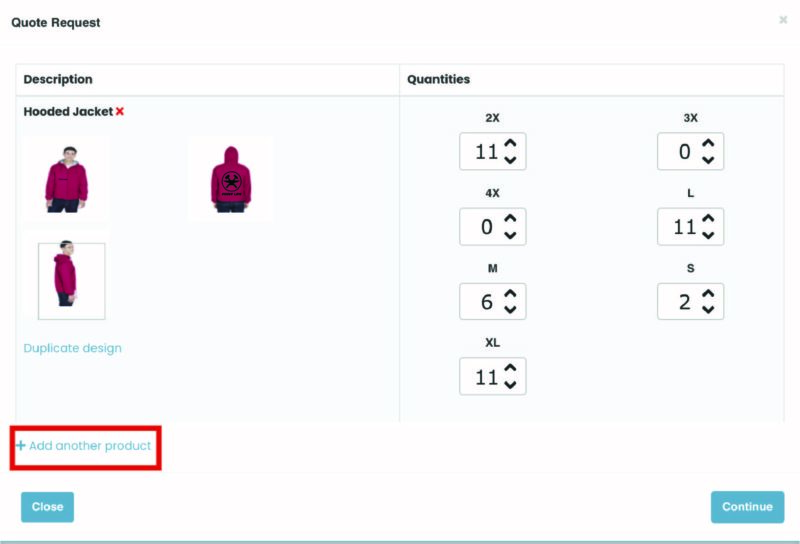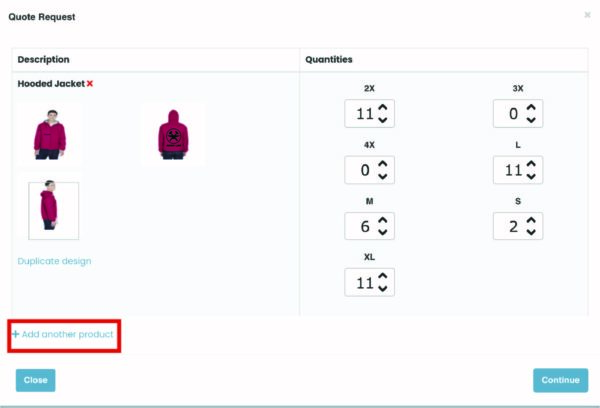 If you've added everything that you need now we're onto the final page, this is where you enter your contact and additional notes. Use the "Additional Notes" to describe any particular garment you're interested in or if you would like to be quoted on any particular print/embroidery system for your design. We will recommend any optimal print/embroidery systems along with your quote.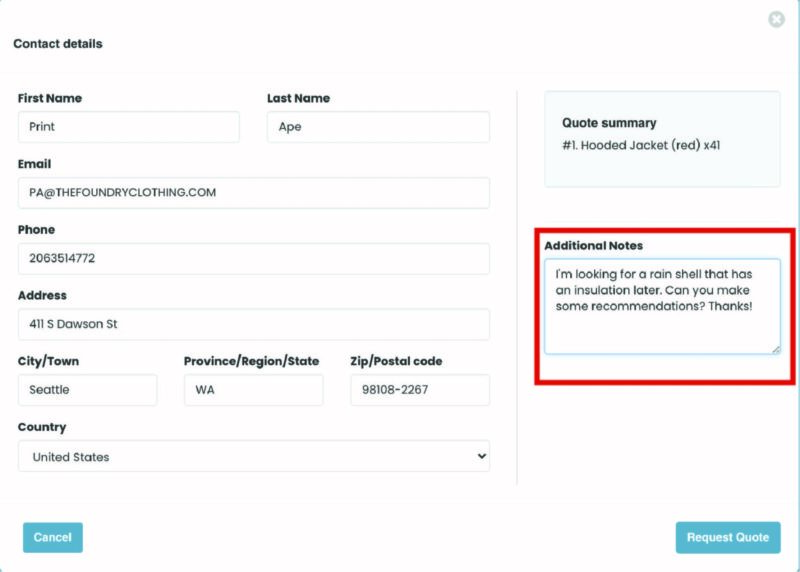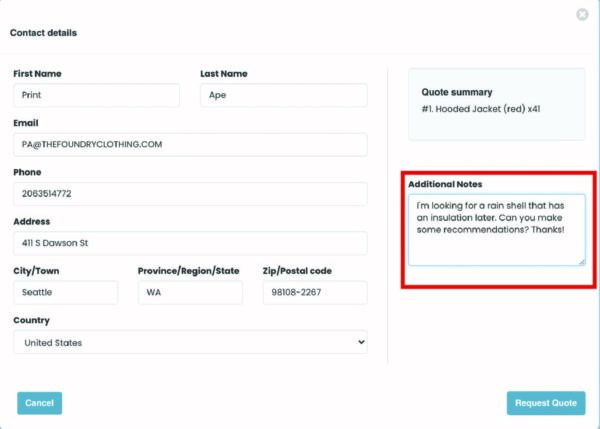 Click "Request Quote" and you're done!
Our team will receive your quote and promptly get back to you with a quote, recommendations and any questions we have regarding your project.
Always feel free to reach out to us with any of your questions. Thanks for reading.!
Dandee Fleming
2021-01-29
I've had shirts, hoodies, bags and hats (screens, embroidery and patches) all made at the The Foundry. I love that they are a local Seattle company and that I can drive over and pick up my products right at the shop if I want to. Quick turn around and great prices. I recommend them for all your product needs.
Super great print shop. They were able to steer us in the direction of making a product that would work with the right design. The end results are quality, stitched beanies, one of our finest pieces of merch yet.
Look no further - my business has used shirts and promo items for a couple decades and The Foundry is as professional as they come. It's a relief to know you're dealing with a full staff with modern equipment - 2 auto-presses and sophisticated embroidery machines. The Crash Course on their website is an invaluable tool to prep you for what to expect; scroll down and check it out, it will save everyone time and money. Keep it up!
Jordan Bradley
2020-12-29
Worked with Clint and The Foundry a couple times now for special order projects. They're always responsive, very quick to get projects and mock ups made, and do awesome work. Will definitely be using them again for any embroidery needs we have!
We have worked with the Foundry on several different headware options for our brewery. The owners are very responsive, super knowledgeable about the products and can help with finding the best product for your needs. The quality of embroidering and stitching is on point. We are always happy to support this local business!